Being diagnosed with scoliosis doesn't have to mean leading a sedentary life of limitations, particularly if a condition is caught early and proactive treatment is applied. A treatment response that is more proactive than reactive is ideal due to the progressive nature of scoliosis; the traditional approach to scoliosis treatment is described as reactive, while a conservative nonsurgical treatment approach is more proactive.
Those in need of Tallahassee scoliosis treatment can access one of the world's leading scoliosis chiropractors: Dr. Tony Nalda of Celebration, Orlando's Scoliosis Reduction Center. Fortunately, most cases of scoliosis can be treated non-surgically.
Prior to moving on to the details of conservative non-surgical scoliosis treatment, let's discuss some defining features of the condition itself.
Understanding Scoliosis
Being diagnosed with scoliosis means an unnatural sideways spinal curve has developed, with a rotational component and a minimum Cobb angle measurement of 10 degrees.
Cobb angle is a measurement obtained during X-ray that places conditions on a severity scale of mild to moderate and severe to very severe:
Mild scoliosis: Cobb angle measurement of between 10 and 25 degrees
Moderate scoliosis: Cobb angle measurement of between 25 and 40 degrees
Severe scoliosis: Cobb angle measurement of 40+ degrees
Very-severe scoliosis: Cobb angle measurement of 80+ degrees
Can You Correct Adult Scoliosis?
The higher the Cobb angle, the more noticeable symptoms tend to be, and the more likely continued progression is.
The fact that scoliosis can range so widely in severity is why it's important to customize treatment plans, so important patient and condition variables are addressed.
In addition, scoliosis is progressive, meaning it's in its nature to worsen over time, particularly if left untreated or not treated proactively, so where scoliosis is at the time of diagnosis is not indicative of where it will stay.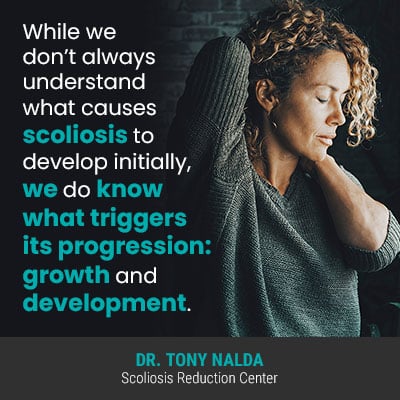 While we don't always know what causes scoliosis to develop initially, we do know what triggers its progression: growth and development.
Even if a person is diagnosed with mild scoliosis, it can easily progress to moderate, severe, and very severe, which is why proactive treatment is so important.
Fortunately, for those in the Tallahassee, Florida area, proactive non-surgical treatment is available in nearby Celebration, Orlando, at one of the world's leading scoliosis-treatment centers: the Scoliosis Reduction Center.
Here at the Center, I spend a lot of time educating patients, and their families, on the different treatment options available because the two main treatment approaches, traditional and conservative, offer patients very-different potential outcomes.
Traditional Scoliosis Treatment: Funneling Patients Towards Spinal Fusion
Under the umbrella of traditional scoliosis treatment, patients diagnosed with mild scoliosis are commonly told to return every 3, 6, or even 12 months for reassessment; the length of assessment intervals will depend on the individual treatment provider.
As the most prevalent form of scoliosis is adolescent idiopathic scoliosis (AIS), diagnosed between the ages of 10 and 18, this age group is at risk for rapid-phase progression. So, what happens if an adolescent patient has a significant growth spurt in between scheduled assessments: they could experience significant condition progression.
The issue I have with this is that had proactive treatment been applied earlier on, that severity level might not have been reached, and while there are no treatment guarantees, scoliosis is more responsive to the treatment applied early in its progressive line. This is because smaller curves are simpler to treat and more flexible, and before a lot of progression has occurred, the body has not yet had ample time to adjust to the condition's presence.
The only form of treatment applied under the traditional approach is traditional bracing, which is known to have a number of shortfalls, and if it's unsuccessful at stopping progression and patients cross the surgical-level threshold at 40+ degrees, patients are commonly funneled towards spinal fusion.
While spinal surgeons have their patient's best interests at heart, and all surgical procedures come with their share of risks, spinal fusion can cost the spine in terms of its natural flexibility and range of motion.
Fortunately, there is another non-surgical treatment option available to Tallahassee residents in nearby Celebration, Orlando, at the practice of one of the world's top scoliosis chiropractors: Dr. Tony Nalda.
How to Fix Scoliosis Without Surgery
Conservative Non-Surgical Treatment
Here at the Scoliosis Reduction Center in Celebration, Orlando, Florida, I've been providing patients, both local and international, with premium non-surgical scoliosis treatment for 20+ years.
I value proactive treatment that strives to prevent progression, increasing condition severity, escalating symptoms, and the need for more-invasive forms of treatment in the future.
I know the hardships that come with progression as symptoms become more noticeable, and with scoliosis, we're talking about postural deviation and pain (more common in adults).
By integrating multiple forms of treatment, such as chiropractic care, in-office therapy, custom-prescribed home exercises, and corrective bracing, I can work towards impacting conditions on multiple levels.
As a structural condition, first and foremost, I want to impact it on a structural level, and when I start to see those results, I can focus on increasing core strength, so the spine is optimally supported by its surrounding muscles.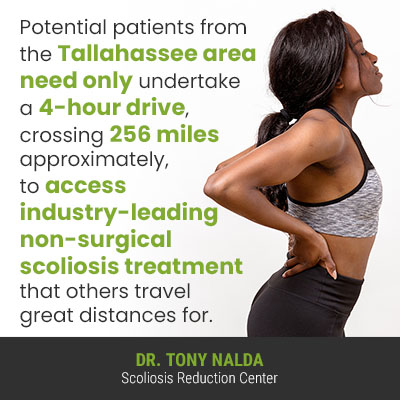 Through condition-specific chiropractic care, I can perform manual adjustments and work towards repositioning the most-tilted vertebrae, at the curve's apex, back into alignment with the rest of the spine, restoring its healthy and natural curves.
Through a variety of therapies and scoliosis-specific exercises (SSEs), I can work towards strengthening the spine and its surrounding muscles. In addition, SSEs can activate certain areas of the brain for enhanced brain-body communication, postural remodeling, and improved body positioning.
Corrective bracing, like the ScoliBrace, can augment corrective results by pushing the spine into a corrective position and addresses many of the shortcomings associated with traditional bracing.
By being proactive, I can help patients avoid the hardships associated with increasing condition severity and keep them off the operating table.
Potential patients from the Tallahassee area need only undertake a 4-hour drive, crossing 256 miles approximately, to access industry-leading non-surgical scoliosis treatment that others travel great distances for.
Conclusion
The most important thing for patients, and their families, to understand is that committing to one treatment approach over another can have far-reaching effects.
While a traditional approach can be described as reactive, a conservative approach is proactive, which is why it's so valuable for progressive conditions like scoliosis.
For those interested in proactive non-surgical scoliosis treatment, feel free to fill out our Contact form for further support and guidance.