Scoliosis can be treated in different ways, but that doesn't mean those different methods produce similar results. A traditional treatment approach commonly involves spinal fusion surgery, while a modern conservative treatment approach has the goal of treating scoliosis without the associated risks of spinal fusion surgery.
Dr. Tony Nalda's Scoliosis Reduction Center in Celebration, Orlando is an 8-hour drive across 499 miles, from Myrtle Beach, SC. Dr. Tony's non-surgical treatment approach has been reducing scoliotic curves for over 20 years, proving that many cases of scoliosis don't require surgery.
The effects of scoliosis can vary from one patient to the next, so let's start with important condition characteristics that shape a patient's experience of life with their condition.
Diagnosing and Classifying Scoliosis
The spine's natural and healthy curves are important for its overall health, strength, and function; they make the spine stronger and more flexible.
The spine's natural design is based on movement, so an approach that preserves the spine's flexibility and range of motion reflects this, which is what I focus my treatment plans around.
If scoliosis is diagnosed, an unnatural sideways spinal curve, that also twists, has developed, and scoliosis is progressive: has it in its nature to get worse over time.
Scoliosis ranges widely in severity from mild to moderate and severe to very severe, and the more severe a condition, the more noticeable its effects are likely to be.
Part of diagnosing scoliosis involves further classifying conditions based on key patient/condition variables, and these variables shape a patient's experience of life with their condition.
Condition classification-points are patient age, condition type, severity, and curvature location.
Classifying conditions not only helps streamline the treatment process, but also helps shape the customization of effective treatment plans.
When it comes to scoliosis, the most important decision to make is how to treat it; different treatment approaches offer patients different potential outcomes.
I want patients to ensure they are aware of all treatment options available to them so they aren't funneled towards spinal fusion surgery unaware that there is a less-invasive and less-risky treatment option available: conservative chiropractic-centered treatment.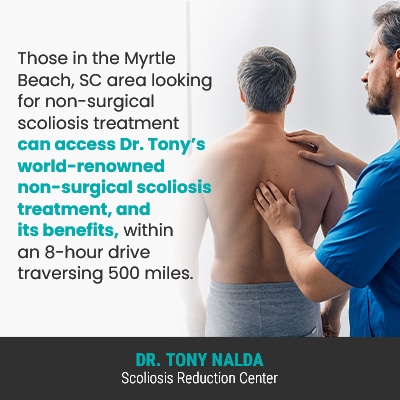 Those in the Myrtle Beach, SC area looking for non-surgical scoliosis treatment can access Dr. Tony's world-renowned non-surgical scoliosis treatment, and its benefits, within an 8-hour drive traversing 500 miles.
Scoliosis Treatment: Traditional vs Conservative
There are two main scoliosis treatment approaches for patients to choose between, and as traditional treatment has been around for longer, let's start with its shortfalls.
Traditional scoliosis treatment is outdated; it's based on the assumption that scoliosis is a 2-dimensional condition when, in fact, it's a 3-dimensional condition, so the potential of traditional treatment is already limited.
Traditional treatment doesn't have a strategy for treating scoliosis while mild, which as a progressive condition, is precisely when treatment should be started.
Under the umbrella of traditional treatment, patients are commonly told to watch and wait for signs of continued progression, but nothing is done in the meantime to prevent progression and increasing condition severity.
Once a condition progresses into the severe classification, the patient becomes a surgical candidate, and spinal fusion surgery is commonly presented as the best remaining treatment option; however, spinal fusion is a costly, lengthy, and invasive procedure that comes with its own share or potential risks, complications, and side effects.
One of the most unfortunate effects of spinal fusion is how it can disrupt a patient's spinal flexibility and range of motion, and as the spine's very design is based on motion, a fused spine is contrary to its movement-based design.
Fortunately, for those choosing to forgo a surgical recommendation, or who simply want to try a less-invasive form of treatment first, Dr. Tony's non-surgical treatment center is conveniently located in Celebration, Orlando.
Conservative Scoliosis Treatment
Conservative scoliosis treatment works towards preserving as much of the spine's natural strength and function as possible.
I want to work with the spine's natural design, not against it.
I don't want my patients to face the risks of invasive surgery unnecessarily, which is why I wrote Scoliosis Hope and started the Scoliosis Reduction Center.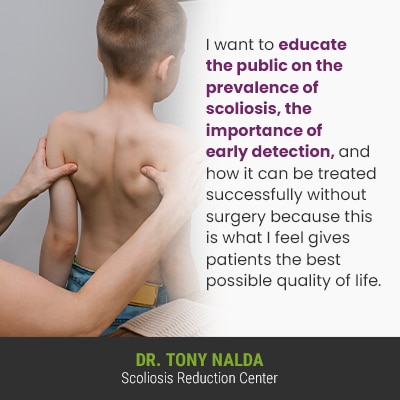 I want to educate the public on the prevalence of scoliosis, the importance of early detection, and how it can be treated successfully without surgery because this is what I feel gives patients the best possible quality of life.
A conservative approach integrates multiple different types of treatment so conditions can be impacted on every level, and this includes condition-specific chiropractic care, physical therapy, corrective bracing, and rehabilitation.
My top priority is reducing the curve on a structural level, and this is because the underlying nature of scoliosis is structural, so treatment has to impact it on a structural level, in the form of a curvature reduction.
I can work towards reducing a scoliotic curve through a series of chiropractic techniques and adjustments that, when successful, can realign the curve's most-tilted vertebrae back into alignment with the rest of the spine.
Physical therapy can help with increasing the spine's surrounding muscles, and this is helpful because it's not just the spine that maintains its natural curves and alignment, but also its surrounding muscles.
Corrective bracing can help complement other treatment disciplines by pushing the spine into a corrective position, and this can be particularly effective on growing spines.
Rehabilitation involves a series of custom-prescribed home exercises to help patients establish a rehabilitation program to further stabilize the spine.
So as you can see, patients who travel to Celebration, Orlando's Scoliosis Reduction Center benefit from accessing multiple scoliosis-specific treatment disciplines under one roof.
Conclusion
Myrtle Beach, SC residents have only an 8-hour drive, and 500 miles, between them and the type of successful non-surgical scoliosis treatment that many cross the globe for.
As the home of Dr. Tony Nalda's Scoliosis Reduction Center, Orlando, FL has a lot to offer visitors including Universal Studios, Disney World, and some of the world;s most-beautiful beaches, but most importantly, for those in search of non-surgical scoliosis treatment, it offers hope: hope for patients who want to thrive, despite being diagnosed with a progressive spinal condition.
I want my patients to have the best possible quality of life throughout treatment and beyond, and this is why people travel from far and wide to access what my team and I have to offer.
So if you, or a loved one, has recently been diagnosed with scoliosis and told that surgery is the answer, be your own advocate by reaching out for further guidance and support.