It's no secret that there are different ways to treat scoliosis, both with and without surgery, but what most people don't realize is that many cases of scoliosis don't require surgery. Spinal fusion is a lengthy, costly, and invasive procedure that can cost the spine in terms of its overall health, strength, and function.
While driving non-stop from Charleston, SC to the esteemed Dr. Tony Nalda's Scoliosis Reduction Center is lengthy at 6 hours, it does put one in reach of world-class non-surgical scoliosis treatment. As a progressive spinal condition, how a person chooses to treat scoliosis has far-reaching effects.
As Dr. Tony is known for his non-surgical treatment success, let's start with what makes his treatment approach unique.
The Benefits of Non-Surgical Scoliosis Treatment
You might be wondering why a person would traverse 400 miles to be within reach of the Scoliosis Reduction Center, but for those wanting to forgo a surgical recommendation, or who simply want to try a less-invasive treatment option first, Dr. Tony has achieved impressive results.
While a traditional scoliosis treatment approach involves a surgical response, it also funnels patients towards that end by not having a strategy for treating scoliosis while mild; it's when a condition progresses into the severe classification that traditional treatment commonly recommends spinal fusion surgery.
Prior to a surgical recommendation, patients are commonly told to simply watch and wait for signs of continued progression, but as a progressive condition, we know it's going to progress at some point, so this is wasting valuable treatment time.
Watching and waiting can mean allowing a scoliotic curve to progress unimpeded, which makes the spine more rigid, less responsive to treatment, can disrupt a patient's ability to perform therapeutic exercises as part of treatment, and the body starts to adjust to the unnatural spinal curve's presence.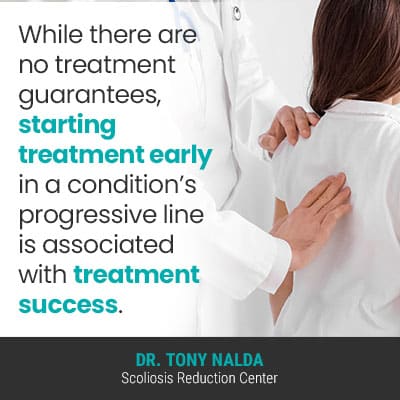 While there are no treatment guarantees, starting treatment early in a condition's progressive line is associated with treatment success.
So non-surgical treatment has the benefit of starting treatment early in an effort to work towards preventing progression, and treating the condition when the spine is going to be the most responsive.
So what exactly does Dr. Tony's non-surgical treatment involve?
Reducing the Curve
The Scoliosis Reduction Center is located in the Celebration area of Orlando, Florida, and while Charleston, SC, at 380 miles, is a fair distance away, the benefits of non-surgical treatment can be far-reaching.
Reducing a scoliotic curve without surgery is one of my main treatment goals, and I do this by applying condition-specific chiropractic care that works towards realigning the spine through a series of chiropractic techniques and manual adjustments.
The complex nature of scoliosis necessitates a customized treatment approach that combines different types of treatment so conditions can be impacted on every level, and in addition to chiropractic care, physical therapy, corrective bracing, and rehabilitation all work together to help reduce the size of the unnatural spinal cure.
As the scoliotic curve is reduced in size, the condition's uneven forces are also reduced, as are their effect and related symptoms.
As it's not just the spine that's in charge of maintaining its natural curves and alignment, applying condition-specific physical therapy can also help by increasing core strength so the spine is supported by its surrounding muscles, improving posture, and activating certain areas of the brain for improved brain-body communication.
Corrective bracing can help by pushing the spine into a corrective position, and rehabilitation is important to further heal and stabilize the spine for sustainable long-term results.
Spinal fusion involves fusing the most-tilted vertebrae of the curve, at its apex, into one solid bone, and the spine is supported in that position by rods that are attached with pedicle screws.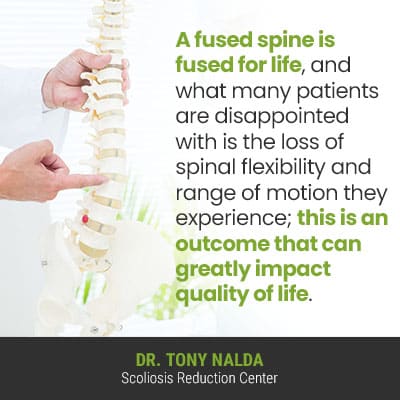 A fused spine is fused for life, and what many patients are disappointed with is the loss of spinal flexibility and range of motion they experience; this is an outcome that can greatly impact quality of life.
Spinal fusion is contrary to the spine's movement-based design, so it can cost the spine in terms of its overall health, strength, and function, whereas conservative treatment relies on more natural forms of treatment; the curve can be reduced while preserving as much of the spine's natural strength and function as possible.
Conclusion
So for those in the Charleston, SC area who are debating on whether the 6-hour drive to Celebration, FL is worth it, we're talking about spinal health and function, and for those who have ever experienced a loss of either of those things, it can affect daily life in a big way.
In addition, for those making the trip to benefit from world-class scoliosis chiropractor Dr. Tony Nalda, there are multiple other activities to enjoy in the Sunshine State; from taking in the beaches and boardwalks to Disney World, there are many reasons to make the drive.
Here at the Scoliosis Reduction Center, I've been treating scoliosis non-surgically for over 20 years, and what I've learned is that the spine can be incredibly resilient, and when spinal conditions like scoliosis are treated proactively, and in a way that's aligned with its movement-based design, there are fewer limits to what can be achieved.
So while there are never treatment guarantees, the best time to start scoliosis treatment is always now; don't hesitate to reach out for guidance and support that can lead to early detection and treatment success.
Thanks to the emergence of non-surgical scoliosis treatment, patients are neither defined, nor limited, by their conditions, at least they don't have to be, and this is the premise I've built my practice on.