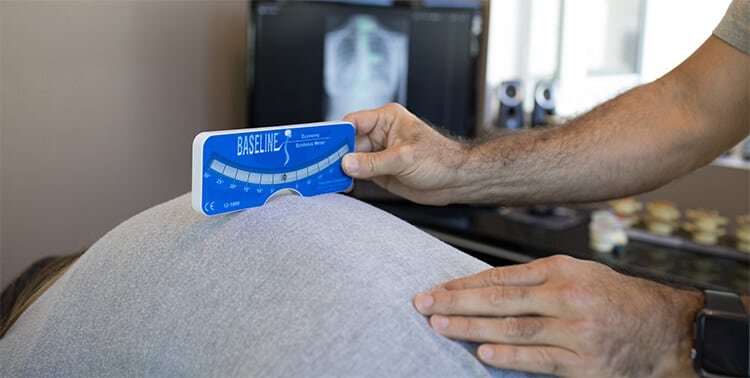 Mild Scoliosis 25 degrees or less
Traditional treatment in this category is "watch and wait."  However, all big curves start out small, so why take the risk.  If a scoliotic curve will respond to conservative treatment, most experts agree that smaller curves have the greatest chance of achieving positive outcomes.
In this phase, depending on the risk of progression and your treatment goals, we can incorporate multiple treatments such as scoliosis specific chiropractic, exercises, and therapy.
In addition, we can design a customized corrective scoliosis brace if needed.
Moderate Scoliosis 25 to 40 degrees
This category of scoliosis can be the most challenging, especially with the evident limitations of traditional bracing (Boston and Milwaukee).  Treatment decisions at this point can determine if the patients scoliosis will ever progress to the severe category or not.
In this category, we will strive to maintain scoliosis during the progressive years, or attempt to reduce the curve if the curve is no longer at risk for rapid progression.  The treatment option here includes our scoliosis specific chiropractic, exercises, and therapy.  In this category, if the curve has a high risk for progression, a customized corrective brace may be recommended depending on the patients case and treatment goals.
Severe Scoliosis 40+
If the scoliosis progresses to this stage, scoliosis surgery is then typically recommended by surgeons. Scoliosis surgery involves a combination of fusion and instrumentation, intended to prevent the spine from continuing to move and worsen over time.
Not every patient feels comfortable choosing spinal surgery as a treatment for their child or themselves. Therefore, many patients seek out other more natural, less invasive options.  For patients seeking to avoid surgery, we have treatment plans that include our scoliosis specific chiropractic, exercises, and therapy.
Traditionally, bracing would not be an option for patients in this stage.  However, with the ability to reduce curves and our ability to design a super corrective brace we can consider bracing to help achieve treatment goals.