For those recently diagnosed with scoliosis, it can be an overwhelming time full of questions and fears. Particularly as a progressive condition whose nature is to worsen over time, how a diagnosis is responded to, in terms of treatment, is key. The traditional scoliosis treatment response funnels patients towards spinal fusion surgery; continue reading to find out why this is neither the best, nor the only treatment option available.
Those traveling from the Greenville, Anderson areas of South Carolina, in search of non-surgical scoliosis treatment, are an approximate 8.5-hour drive away from Dr. Tony Nalda's Scoliosis Reduction Center, where he's been helping patients avoid invasive and costly spinal surgery for over 20 years.
There is more than one way to respond to a diagnosis of scoliosis, and the choice between treatment approaches can impact a patient's overall health and quality of life.
Diagnosing Scoliosis
When scoliosis is first diagnosed, one of the hardest condition characteristics for patients to understand is its progressive nature.
A progressive condition is virtually guaranteed to worsen over time, and as scoliosis involves the development of an unnatural sideways spinal curve, with rotation, progression means the size of the scoliotic curve is going to increase over time.
As scoliosis progresses, the spine becomes more rigid, making it less responsive to treatment, and making certain therapeutic exercises, as part of treatment, difficult to perform.
Particularly with adult patients who have been living with their conditions for longer, meaning more progression has likely occurred, when spinal rigidity is significant, some preparatory work has to be done to first restore a baseline level of spinal flexibility.
Chiropractic-centered treatment requires a certain level of spinal flexibility so the vertebrae (bones of the spine) can be manually adjusted.
Scoliosis ranges widely in severity from mild to moderate and severe to very severe, so where a diagnosis is at the time of diagnosis is rarely indicative of where it will stay; only proactive treatment can work towards counteracting the condition's progressive nature.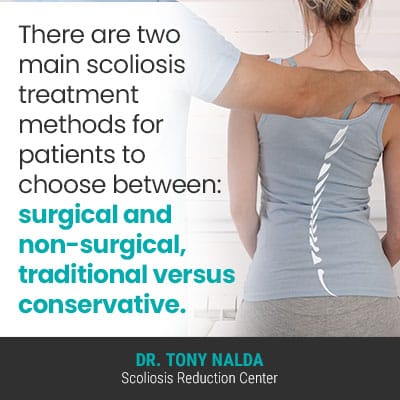 There are two main treatment methods for patients to choose between: surgical and non-surgical, traditional versus conservative.
For those interested in non-surgical scoliosis treatment, Dr. Tony's Scoliosis Reduction Center is located in the Celebration area of Orlando, Florida, home to Disney World, Universal Studios, and so much more.
Those traveling from the Greenville, Anderson areas of South Carolina have just over an 8-hour drive to traverse, putting them in reach of industry-leading non-surgical scoliosis treatment.
Traditional Surgical Scoliosis Treatment
Traditional scoliosis treatment responds to a diagnosis of scoliosis reactively, rather than proactively, which is why watching and waiting is commonly recommended.
Watching and waiting means merely observing conditions to see if they'll progress, but as they are virtually guaranteed to do so, I see this as wasting valuable treatment time; remember, as the spine gets more rigid with progression, scoliosis is far simpler to treat while still mild.
Under the umbrella of traditional treatment, once a patient's scoliosis progresses into the severe category, with a Cobb angle measurement of 40+ degrees, they become surgical candidates.
All surgical procedures come with their share of risks, and spinal fusion is no exception.
The goal of spinal fusion is to stop progression, and it works towards this by fusing the curve's most-tilted vertebrae, at its apex, into one solid bone; this is done to eliminate movement (progression) in the area.
Once the vertebrae are fused into one solid bone, rods are commonly attached to the spine with screws to hold it in place, and a spine that's fused is one that's not going to be as strong, or flexible, and that can impact a patient's overall quality of life.
Fortunately, for those interested in a less-invasive form of treatment, modern conservative chiropractic-centered treatment offers a non-surgical alternative.
Non-Surgical Scoliosis Treatment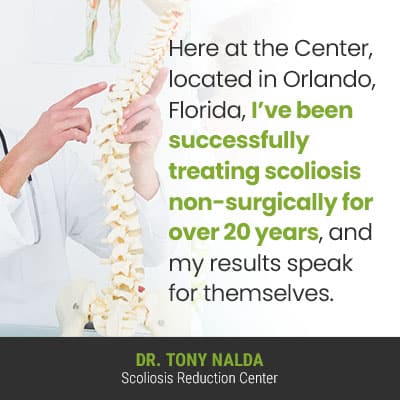 Here at the Center, located in Orlando, Florida, I've been successfully treating scoliosis non-surgically for over 20 years, and my results speak for themselves.
By integrating multiple different types of treatment, I can work towards impacting scoliosis on every level.
As a structural spinal condition, first and foremost, scoliosis has to be impacted on a structural level, and this is worked towards through a series of chiropractic techniques and manual adjustments that can adjust the position of the curve's most-tilted vertebrae back into alignment with the rest of the spine.
Once I start to see structural results, I shift the focus to increasing core strength as this means the spine's surrounding muscles can optimally support it.
Corrective bracing can also help augment corrective results by pushing the spine into a corrective position, and further rehabilitation is needed to stabilize the spine for long-term treatment results; this is achieved through a series of custom-prescribed home exercises.
Conclusion
For residents of Greenville, SC, Dr. Tony's treatment center is 528 miles away, so an approximate 7.5-hour drive, or a 1.5-hour flight, and for residents of Anderson, SC, 486 miles, an 8-hour drive, or a 1-hour flight, is all that's separating patients from world-renowned non-surgical scoliosis treatment.
And as Florida is also home to Disney World, Universal Studios, and so much more, there are many reasons to visit the Sunshine state.
While spinal fusion can help straighten a scoliotic spine, for many patients, it does so at the expense of spinal health, strength, and function.
For those choosing to forgo a surgical recommendation, or who simply want to try a less-invasive treatment option first, the Scoliosis Reduction Center offers a non-surgical treatment response that's based on preserving as much of the spine's natural strength, health, and function as possible.
So if you are a South Carolina resident looking for guidance, support, and a non-surgical scoliosis treatment option, don't hesitate to reach out.