Once a scoliosis diagnosis is given, the most important decision patients are faced with is how to treat it moving forward. Patients can either follow the traditional scoliosis treatment approach that often involves surgery, or a conservative approach that offers the benefits of non-surgical treatment.
Residents of Jacksonville, Florida are a mere 2.15-hour drive from accessing non-surgical scoliosis treatment delivered by one of the world's leading scoliosis chiropractors. Dr. Tony Nalda, of Scoliosis Reduction Center in the Orlando area, offers proactive non-surgical scoliosis treatment with proven results.
Before getting into the specifics of why residents of Jacksonville should consider the 141-mile drive to the Scoliosis Reduction Center in Celebration (Orlando area), let's first discuss scoliosis in general terms.
Understanding Scoliosis
Scoliosis is a structural spinal condition that involves the development of an unnatural sideways spinal curve, with rotation, making it a 3-dimensional condition, and a minimum Cobb angle measurement of 10 degrees.
Cobb angle is known as the orthopedic gold standard in the diagnosis and assessment of scoliosis and is obtained during X-ray.
A patient's Cobb angle places their condition on a severity scale of mild, moderate, severe, or very severe and tells me how far out of alignment a scoliotic spine is.
A key condition characteristic to understand is that scoliosis is progressive, meaning it has it in its nature to worsen over time, especially if left untreated, or not treated proactively.
Even scoliosis that's initially diagnosed as mild can easily progress to moderate, severe, or very severe; where a scoliosis is at the time of diagnosis is not indicative of where it will stay, which is why proactive treatment is so important.
In a healthy spine, the vertebrae (bones of the spine) are stacked on top of one another in a straight and neutral alignment; in a scoliotic spine, the spine is misaligned due to vertebrae that are tilted, causing a loss of one or more of the spine's healthy curves.
The spine's ability to maintain its natural curves and alignment is key to its optimal function and health.
Once a person is diagnosed with scoliosis, they are faced with a difficult and crucial decision: how to treat it moving forward.
There are two main scoliosis treatment approaches for patients, and their families, to choose between, each offering patients a different potential outcome that has far-reaching effects.
Scoliosis Treatment Without Surgery, Amber's Story
Traditional Scoliosis Treatment Approach
The traditional scoliosis treatment approach has been in place for many years, but despite our growing understanding of the condition and how it responds to treatment, the traditional approach has changed little over those years.
What traditional scoliosis treatment involves is a lot of watching and waiting: simply observing and monitoring for signs of further progression.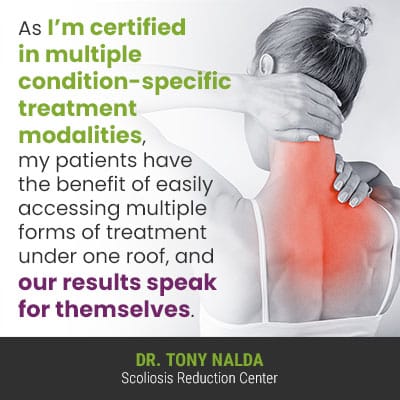 The issue with watching and waiting is that as a progressive condition, we know that virtually every case of scoliosis is going to get worse at some point; being more reactive than proactive can mean allowing a scoliotic curve to progress unimpeded.
What commonly happens to those on the path of traditional scoliosis treatment is their condition is observed as it gets worse, then once the condition has progressed into the moderate or severe severity level, traditional bracing is attempted.
There are a number of shortfalls associated with traditional bracing, and if it fails and the patient shows signs of continued progression, once they cross the surgical-level threshold at 40+ degrees, they become a candidate for spinal fusion surgery; had proactive treatment been applied earlier, it's possible that they might never have progressed to that level and crossed that threshold.
Fortunately, there is also a non-surgical treatment approach that offers patients a different experience of scoliosis treatment with an equally-different potential result.
The Scoliosis Reduction Center's Proactive Treatment Approach
Located in the heart of Orlando, Florida, the Scoliosis Reduction Center was founded by Dr. Tony Nalda, who has helped set the industry standard when it comes to non-surgical scoliosis treatment.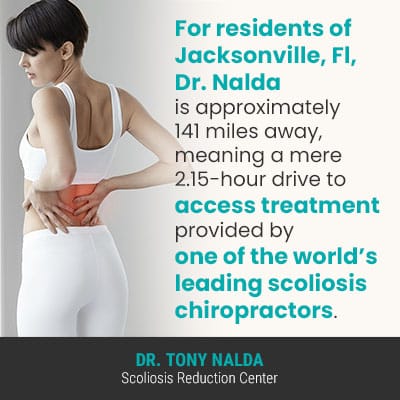 For residents of Jacksonville, Fl, Dr. Nalda is approximately 141 miles away, meaning a mere 2.15-hour drive to access treatment provided by one of the world's leading scoliosis chiropractors.
The Center offers a conservative treatment approach, also known as functional and/or chiropractic-centered, that prioritizes proactive treatment started as close to the time of diagnosis as possible.
By integrating multiple condition-specific treatment modalities, I can work towards impacting conditions on every level by fully customizing treatment plans to suit the individual patient and their condition.
While there are no treatment guarantees, by combining chiropractic care, in-office therapy, custom-prescribed home exercises, and corrective bracing, I can impact conditions on a structural level in the form of a curvature reduction, while increasing core strength for optimal spinal support/stabilization, and corrective bracing can complement corrective results by pushing the spine into a corrective position.
By being proactive with treatment, I can help patients prevent progression, increasing condition severity, escalating symptoms, and the need for invasive treatment, like surgery, in the future.
As I'm certified in multiple condition-specific treatment modalities, my patients have the benefit of easily accessing multiple forms of treatment under one roof, and our results speak for themselves.
By being proactive, integrating different types of treatment, and fully customizing treatment plans, as much of the spine's natural function as possible is preserved; whereas spinal fusion surgery tends to cause functional deficits, such as decreased spinal flexibility and range of motion.
So for residents of Jacksonville, Florida, a mere 141 miles and a 2.15-hour drive can put patients in reach of scoliosis treatment that others have to cross the globe for.
Scoliosis Treatment By Age
Conclusion
When it comes to treating a complex structural spinal condition like scoliosis, being proactive is key.
While a traditional treatment approach is described as reactive, a modern conservative approach is more proactive; in light of the condition's progressive nature, this is an important distinction to understand.
Dr. Tony Nalda has dedicated his career to spreading awareness of the condition's prevalence, the benefits of early detection, and treatment options that don't include invasive and costly surgery.
So when it comes to Jacksonville scoliosis treatment, a 2.15-hour drive crossing 141 miles is not a far distance to traverse, considering the potential treatment benefits that can include a curvature reduction, increased core strength, corrective bracing, and preserving as much of the spine's natural function as possible.
If you, or someone you care about, is facing the difficult decision of how to treat scoliosis moving forward, don't hesitate to reach out to us here for further support and guidance.