It's important that scoliosis patients are aware of all treatment options available to them, and this is because different treatment approaches offer different potential outcomes; those outcomes can impact quality of life. There are two main scoliosis treatment approaches: traditional and conservative. Continue reading to learn the difference, and the types of treatment patients can expect with each.
Those in the Gainesville, GA area in search of non-surgical scoliosis treatment have only 500 miles separating them from world-renowned scoliosis chiropractor, Dr. Tony Nalda. The Scoliosis Reduction Center of Celebration, Fl gives patients access to multiple treatment disciplines under one roof.
Scoliosis can be treated with or without surgery. Choosing between the two can be a difficult, and confusing, process, which is why I want to ensure patients are informed so they can make the choice that's right for them.
What is Scoliosis?
Scoliosis is a highly-prevalent spinal condition with close to seven million people currently living with it in the United States alone; it is the most common spinal condition amongst school-aged children.
Scoliosis is the development of an unnatural sideways spinal curve that doesn't just bend unnaturally to the side, but also twists from front to back, back to front, making it a complex 3-dimensional condition.
In addition, in order to reach a diagnosis of scoliosis, the unnatural spinal curve also has to be of a minimum size: Cobb angle measurement of at least 10 degrees.
A patient's Cobb angle is determined during X-ray and tells me how far out of alignment a scoliotic spine is, while classifying conditions based on severity:
Mild scoliosis: Cobb angle measurement of between 10 and 25 degrees
Moderate scoliosis: Cobb angle measurement of between 25 and 40 degrees
Severe scoliosis: Cobb angle measurement of 40+ degrees
Very-severe scoliosis: Cobb angle measurement of 80+ degrees
In addition, scoliosis is progressive, meaning where a scoliosis is at the time of diagnosis is not indicative of where it will stay.
Scoliosis is a Progressive Condition
Because scoliosis is progressive, it's especially important that it's treated proactively.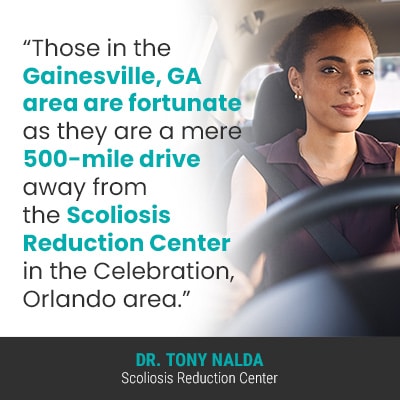 Those in the Gainesville, GA area are fortunate as they are a mere 500-mile drive away from the Scoliosis Reduction Center in the Celebration, Orlando area.
At the Center, Dr. Tony Nalda has been helping patients thrive with their scoliosis by treating it conservatively and focusing on preserving as much of the spine's natural strength and function as possible.
Scoliosis can easily progress from mild to moderate and severe to very severe; only proactive treatment can work towards counteracting the condition's progressive nature.
While we don't always know what triggers the initial onset of scoliosis, we do know what triggers its progression: growth and development.
Scoliosis can affect all ages, and children who are still growing are at risk for rapid-phase progression, particularly in cases of adolescent idiopathic scoliosis (AIS), diagnosed between the ages of 10 and 18, due to the rapid and unpredictable growth spurts that characterize puberty.
As scoliosis is progressing, it is becoming more complex to treat, hence the benefit of starting treatment early in a condition's progressive line, but how a diagnosis is responded to, and when, will depend on the chosen treatment approach.
Scoliosis Treatment Options
As mentioned, there are two main scoliosis treatment approaches available, traditional and conservative; while the former funnels patients towards spinal fusion surgery, the latter opts for a non-surgical approach that prioritizes corrective treatment results.
The difference in how a diagnosis of mild scoliosis is responded to by the different approaches highlights the shortfalls of a traditional approach, and the benefits of a modern strategy.
Traditional Scoliosis Treatment
Traditional scoliosis treatment doesn't have a strategy for treating mild scoliosis, so commonly recommends that patients watch and wait; this means observing for signs of progression, but it can also mean allowing a scoliosis to progress unimpeded.
Remember, growth is the trigger for progression, so what if, while watching and waiting, an adolescent patient undergoes a significant growth spurt?
As scoliosis progresses, this means the unnatural spinal curve is increasing in size, becoming more rigid and more complex to treat.
Increasing spinal rigidity means the spine is becoming less responsive to treatment, and the codition's uneven forces are increasing, as are their effects.
It's far more effective to proactively work towards preventing progression and escalating symptoms, than it is to attempt to work towards reversing those effects once they've developed.
Traditional treatment does little to prevent progression, but once a condition progresses into the severe classification at 40+ degrees, patients become surgical candidates.
Spinal fusion involves fusing the curve's most-tilted vertebrae into one solid bone, and this is done to eliminate movement (progression) in the area, and in most cases, rods are attached to the spine with pedicle screws to hold it in place.
A spine that's fused is contrary to its movement-based design, is more vulnerable to injury, and is often less flexible, sometimes causing activity restrictions.
While spinal fusion surgery can straighten a scoliotic spine, it does so at the expense of is overall strength, function, and health, and this is what I want to help patients avoid.
Conservative Scoliosis Treatment
Those in search of proactive non-surgical scoliosis treatment in the Gainesville, GA area are within 500 miles of Dr. Tony's Scoliosis Reduction Center where results speak for themselves.
Dr. Tony supports patients on their scoliosis journey by providing a non-surgical treatment alternative that starts treatment as close to the time of diagnosis as possible.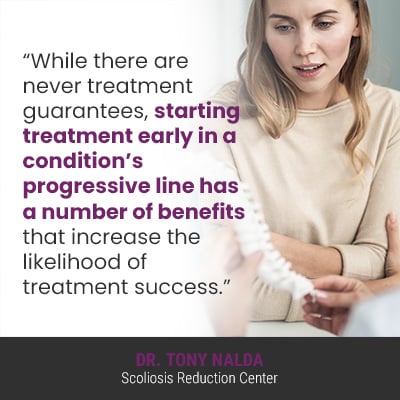 While there are never treatment guarantees, starting treatment early in a condition's progressive line has a number of benefits that increase the likelihood of treatment success.
Scoliosis is simpler to treat while mild, when the curve is smaller, the spine is still flexible, and the condition's effects are subtle.
Scoliosis introduces a lot of uneven forces to the body, and the main symptom of scoliosis in children is postural deviation such as uneven shoulders, hips, and the development of a rib arch; the main symptom of scoliosis in adults is pain, and this is because scoliosis becomes a progressive condition in adulthood, once skeletal maturity has been reached.
Here at the Center, one of the main benefits patients experience is having access to multiple condition-specific types of treatment under one roof.
By combining chiropractic care, physical therapy, corrective bracing, and rehabilitation, conditions can be impacted on every level for the best potential results.
Through chiropractic care, a curvature reduction is worked towards because as a structural condition, scoliosis has to be impacted on a structural level.
A series of chiropractic techniques and manual adjustments can work towards repositioning the curve's most-tilted vertebrae, at its apex, back into alignment with the rest of the spine.
Through physical therapy, the spine's surrounding muscles can be strengthened so they can optimally support and stabilize the spine, while addressing any related muscle imbalances that have developed.
It's not just the spine that's in charge of maintaining its natural curves/alignment, but also its surrounding muscles, and those surrounding muscles are also affected by the condition's uneven forces; a muscle imbalance can develop as an unnaturally-curved spine pulls its surrounding muscles in different directions.
In many cases, the muscles on one side of the spine become stretched and loose from overuse, while the muscles on the opposite side can become weak from underuse.
Corrective bracing can help by pushing the spine into a corrective position, which complements other forms of treatment.
While traditional bracing is associated with a number of shortfalls, mainly its refusal to address the condition as 3-dimensional, the modern ScoliBrace can offer corrective results by addressing many of the cons of traditional bracing.
A series of custom-prescribed scoliosis-specific exercises (SSEs) and stretches can help patients establish a home-rehabilitation program to further stabilize the spine for long-term sustainable treatment results.
Conclusion
What I want most for scoliosis patients is to be educated on the different treatment options available so they can make an informed decision about which approach to commit to.
Residents of Gainesville, GA have only a 7.5-hour drive, and 500 miles, between them and the type of conservative treatment that others cross the globe for.
Patients of the Center will experience an integrative approach that combines multiple types of treatment so patients can benefit from what each has to offer.
The complex nature of scoliosis necessitates a customized and proactive treatment approach; although scoliosis is progressive, it can be highly treatable, especially with early detection and intervention.
If you, or someone you care about, has recently been diagnosed with scoliosis, it's time to reach out for the type of guidance and support capable of putting patients on the path towards treatment success.