Sleep is an important part of life for everyone. It helps us restore, rejuvenate, and for people living with sciatica, it can be particularly important in terms of creating an environment inside the body that's conducive to healing.
For many people, sciatic nerve pain can be worse at night due to increased pressure on the sciatic nerve, finding it difficult to get comfortable due to pain, and because the inflammatory process tends to increase at night; proactive treatment and some simple strategies can help.
Before getting into the specifics of sleeping with sciatica and how to minimize its negative effects, let's first talk generally about what it means to have sciatica.
Understanding Sciatica
Sciatica is prevalent, affecting approximately 10 to 40 percent of the population, but it's also important to understand that the term sciatica is more accurately understood as a set of symptoms, than a condition itself.
Sciatica refers to pain and discomfort felt anywhere along the pathway of the sciatic nerve, including at its root, where it branches off from the lumbar spine to different areas of the lower body.
The sciatic nerve is the longest and largest nerve in the human body, and it is also classified as a mixed nerve because it contains both sensory and motor fibers, meaning it's involved in the movement and sensation of the lower body.
The sciatic nerve originates in the lumbar spine and extends down the buttock, leg, and into the foot.
In most cases, sciatica involves the left side of the lower body, but it can also involve the right side of the body, and in rare cases, both.
When the sciatic nerve is exposed to uneven forces such as compression, or a loss of space for it to function optimally within the spine, it can become pinched, irritated, inflamed, or impinged.
When the sciatic nerve is pinched, irritation and inflammation can cause a variety of symptoms felt throughout the lower body, and the term sciatica refers to the symptoms experienced due to irritation of the sciatic nerve, either at its root, or anywhere along its extensive pathway.
What Does Sciatica Feel Like?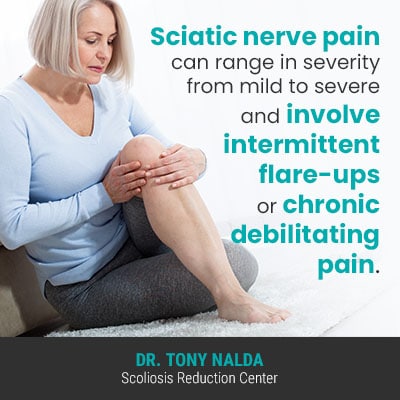 Sciatic nerve pain can range in severity from mild to severe and involve intermittent flare-ups or chronic debilitating pain.
Those who have experienced nerve-related back pain often describe it as the most debilitating form of back pain, which is understandable as, remember, nerves branch off throughout the body in different directions, so when a nerve is irritated, it can produce symptoms felt at its route, or anywhere its pathway, far from its origin.
Also, as a mixed nerve of the lower body, it can affect the lower body in terms of movement and/or sensation.
Sciatic nerve pain can feel different to different people based on important factors such as patient age and overall health, the degree of nerve involvement, and the underlying cause of the nerve pain.
Remember, sciatica is defined by the symptoms it can cause, but those symptoms have an underlying cause, which is why effective treatment has to address sciatic nerve pain as a symptom, not a condition itself.
In many cases, sciatica symptoms can present as:
Buttock pain
Leg pain radiating down the back thigh and calf
Muscle weakness
Numbness and/or weakness felt anywhere along the nerve's pathway
Loss of movement due to increased pain during movement
Feeling of pins and needles in the affected leg and foot
In many cases, especially those that are more related to an overuse injury or recent strain, sciatica can resolve on its own in a number of weeks, but for more severe cases caused by an underlying condition, proactive treatment shaped by causation may be needed for long-term pain relief.
Many of these symptoms can worsen at night for a number of reasons, making it difficult for a person to get a good night's rest, so let's move on to discussing why sciatica can be worse at night and what can be done about it.
Why is Sciatica Worse at Night?
At some point in time, it's likely that everyone will experience some form of lower back pain.
There are three main sections of the spine: cervical (neck), thoracic (middle/upper back), and lumbar (lower back).
The lumbar spine, in particular, where the sciatic nerve starts, is the most common site of back pain, and this is because the lumbar spine not only has to support the weight of the spinal sections above, but also the weight of the trunk. Because of its connection to the pelvis, the lower back feels the strain of twisting, bending, and lifting.
Trying to get comfortable at night, while experiencing localized lower back or radicular pain shooting through the lower body can make it challenging to find a comfortable sleep position.
In addition, certain positions that further compress the sciatic nerve can exacerbate those effects, as can sleeping on a mattress that is too soft.
Inflammation is a big part of sciatica, and as the inflammatory process tends to increase at night, this can also make it even more difficult for people with sciatica to get a good night's rest.
How to Fix Sciatic Nerve Pain at Night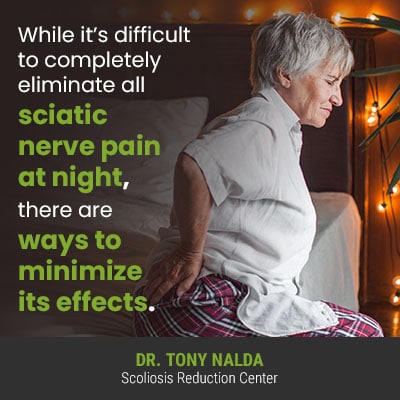 While it's difficult to completely eliminate all sciatic nerve pain at night, there are ways to minimize its effects.
In addition to people with sciatica needing a good night's sleep to help create an environment within the body that's conducive to healing, certain hormones are released during sleep that are important for the body's overall health and function, particularly in terms of restoration/healing.
As getting comfortable can be a big part of the challenge of sleeping with sciatica, let's talk about how sleep position and pillow placement can help with sciatic nerve pain at night.
Sleep Position and Pillow Placement
You may wonder, "is lying down bad for sciatica?" Nerves, and especially inflamed ones, don't like to be stretched; stretching a nerve can increase irritation/inflammation, causing those sharp burning pains associated with sciatica. Your sleeping positions can affect this.
For back-sleepers, putting a log-shaped pillow under the knees so the legs are bent slightly can help prevent the nerve from being stretched, and for side-sleepers, a pillow between the knees can help, and there are pillows available that were made specifically for between-the-knee placement, for
For people who prefer sleeping on their left side, switching to the right can help by making the right hip the pressure point, rather than the left, which is the most common side of the body affected by sciatic nerve pain, and vice versa for those experiencing sciatica nerve pain down the right side of the body.
Pillow placement will be highly personal, so it might take some experimentation to find the ideal sleep positions to help with sciatic nerve pain at night.
In addition, having a warm shower or bath before bed can also help by heating up and relaxing muscles of the lower back and back of the legs; the effect of heat on the skin can give the sensation that a trapped nerve is gliding better throughout the lower back and body, providing pain relief that can help with relaxation and falling asleep.
Proactive Treatment and Sleep
As sciatica refers to a set of symptoms, determining the underlying cause of the sciatic nerve pain and designing a treatment plan around causation is an important part of long-term and sustainable pain relief for sciatica.
If a condition's underlying cause is determined and treatment is applied that addresses that causation, sciatic nerve pain is reduced in general, including at night.
Sciatica has a number of causes. Some of the most common involve intervertebral disc issues such as degenerative disc disease and disc herniation that occurs in the lower back.
The intervertebral discs sit between adjacent vertebrae (bones of the spine) to provide the spine with structure, flexibility, and act as its shock absorbers.
When a disc in the lumbar spine experiences degenerative changes, it can become desiccated, change shape, and affect the position of adjacent vertebrae, which can expose the sciatic nerve to uneven pressure.
When a disc in the lower back herniates, this means its soft inner nucleus has pushed its way through a tear in the tough outer annulus, and this can encroach upon the spaces within the spine through which the sciatic nerve branches off to different parts of the body. This loss of space can cause the sciatic nerve to become impinged and painful.
While there are no treatment guarantees, here at the Scoliosis Reduction Center, while there are no treatment guarantees, if a patient's sciatic nerve pain is caused by a deteriorating disc in the lower back, I design a treatment plan that integrates multiple treatment disciplines for the best potential results.
Through condition-specific chiropractic care and a variety of physical therapy exercises and stretches, I can work towards addressing any vertebral subluxation caused by, or contributing to, the disc issue affecting the sciatic nerve.
Gentle and precise chiropractic adjustments can help improve spinal alignment, reducing uneven forces exposed to the spine and its nerves within, which can also help take pressure off an affected disc and help its inner nucleus reclaim its central position inside the disc, and the disc's central position between adjacent vertebrae.
When combined with effective and customized chiropractic care, a variety of physical therapy exercises and stretches can help keep the lumbar spine and its surrounding muscles as strong, loose, and flexible as possible, improving spinal support/stabilization.
Having a strong core helps take the pressure from the spine and its individual structures, like the discs and vertebrae, to maintain its natural and healthy curves, and this also helps allow for optimal space within and around the spine for the sciatic nerve to function optimally, without compression and/or impingement.
So if sciatic nerve pain is keeping you up at night, consider the value of proactive sciatica treatment driven by its underlying cause to make sustainable long-term improvements that proactively address the symptoms associated with sciatica.
How to Sleep with Scoliosis
Conclusion
Sleep is not only important for our emotional health, but also for our physical wellbeing.
Particularly for those living with additional challenges like sciatic nerve pain, understanding some strategies for severe pain management and improved sleep can help the body heal from a sciatica flare-up.
Sciatica pain can be worse at night for different reasons: when a person is quiet and lying still, the distractions of daily life are absent, and if any type of pain is present, it can be difficult to ignore.
Pain can also make it challenging to find a comfortable sleep position. To help with that, sleep position and pillow placement can help by preventing the sciatic nerve from being stretched and reducing pressure points.
The best way to proactively address sciatic nerve pain, in the long term, is by applying effective treatment that's customized for each individual patient and the underlying cause of their sciatic nerve pain.
Here at the Scoliosis Reduction Center, I help sciatica patients manage their condition, including pain management, by combining different treatment disciplines such as chiropractic care and physical therapy.