Scoliosis isn't just a spinal condition; it's a 3-dimensional progressive spinal condition, meaning its nature is to get worse over time. Its progressive nature is why how a condition is treated is the most important decision a patient has to make.
Scoliosis can be treated surgically or non-surgically, and the choice of which type of treatment to commit to can have far-reaching effects. Those in the Spartanburg, SC area have only an 8.5 hour drive separating them from the Scoliosis Reduction Center in Celebration, Orlando.
Before getting to the specific benefits of Dr. Tony Nalda's non-surgical scoliosis treatment approach, let's first define the condition itself.
Understanding Scoliosis
Scoliosis causes a loss of the spine's healthy curves, and as an unnatural sideways spinal curve that also twists, it's a 3-dimensional condition.
The spine's healthy and natural curves make it more flexible, stronger, and better able to function, but as an unhealthy spinal curve develops, the entire spine's biomechanics are disrupted.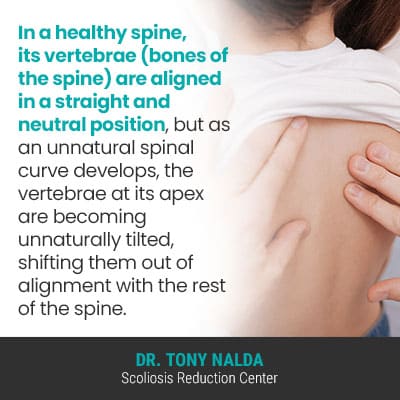 In a healthy spine, its vertebrae (bones of the spine) are aligned in a straight and neutral position, but as an unnatural spinal curve develops, the vertebrae at its apex are becoming unnaturally tilted, shifting them out of alignment with the rest of the spine.
Scoliosis introduces a lot of uneven forces to the spine, its surroundings, and the entire body, and as a progressive condition, scoliosis is virtually guaranteed to get worse, at varying rates.
Scoliosis ranges widely in severity from mild to moderate and severe to very severe, and this is also the condition's progressive line, so even scoliosis first diagnosed as mild doesn't mean that's where it will stay; only proactive treatment can work towards counteracting the condition's progressive nature.
Patients always have a choice to make: whether to treat their scoliosis with traditional surgical scoliosis treatment, or modern conservative non-surgical treatment.
While there are never treatment guarantees, early detection, when responded to with proactive treatment, increases the likelihood of treatment success, so there are benefits to starting treatment as close to the time of diagnosis as possible.
While an 8.5 hour drive across 520 miles is no small thing, residents of Spartanburg, SC would be within reach of world-renowned scoliosis chiropractor, Dr. Tony Nalda, and his impressive non-surgical scoliosis treatment results.
Traditional Surgical Scoliosis Treatment
Traditional surgical scoliosis treatment was the dominant treatment choice for many years, but that doesn't mean it's the best, nor the only scoliosis treatment option available.
Scoliosis surgery is a type of spinal fusion, and while there are different forms, most often, the procedure involves fusing the curve's most-tilted vertebrae into one solid bone, and then attaching rods with screws to the spine to hold it in place.
The goal of fusing the spine is to eliminate movement (progression) in the area as the vertebrae can't become more tilted over time, so stopping progression is the ultimate goal of spinal fusion, while corrective results is the ultimate goal of non-surgical scoliosis treatment.
As the spine's natural design is movement-based, a fused spine is contrary to its nature and comes at a price: the spine's natural flexibility and range of motion.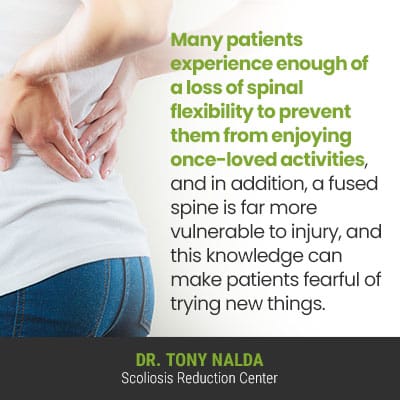 Many patients experience enough of a loss of spinal flexibility to prevent them from enjoying once-loved activities, and in addition, a fused spine is far more vulnerable to injury, and this knowledge can make patients fearful of trying new things.
Risks associated with the procedure itself can include excessive blood loss, infection, adverse reaction to hardware used, and/or nerve damage.
Fortunately, there is another non-surgical treatment option available that gives patients another choice with a different potential outcome for the spine.
Non-Surgical Conservative Scoliosis Treatment
Here at the Scoliosis Reduction Center, located in Celebration, Orlando, FL, residents of Spartanburg, SC can access what many cross the globe for: accessing multiple condition-specific treatment disciplines under one roof.
Integrating different forms of treatment makes impacting conditions on every level possible, and it allows me to fully customize each and every treatment plan based on key patient/condition variables.
I don't want my patients to live with weaker, less-functional spines; this is why I designed a treatment approach that works to preserve as much of the spine's natural strength and function as possible, throughout treatment and beyond.
By combining chiropractic care, physical therapy, corrective braving, and rehabilitation, I can work towards reducing the size of a scoliotic curve on a structural level, increasing core strength so the spine is supported by its surrounding muscles, pushing the spine into a corrective position, and helping patients establish a home-rehabilitation program for further stabilizing the spine.
If a curvature reduction can be achieved, the condition's underlying structural nature is being addressed, and a re-aligned spine is one that's going to function much better than one that's held in alignment through artificial means.
Conclusion
Orlando, Florida isn't just home to the standard-setting Scoliosis Reduction Center, it's also home to Universal Studios, Disney World, and a number of other sites worthy of an 8.5-hour drive from Spartanburg, SC.
Here at the Center, I've been reducing scoliotic curves non-surgically for over 20 years, and my results speak for themselves.
While surgery can straighten a scoliotic spine, the way it does so can cost the spine in terms of its overall strength, health, and function.
So don't hesitate to reach out for guidance and support to ensure all scoliosis treatment options are being considered.