As a progressive spinal condition, scoliosis is incurable, but it can be highly treatable, especially when detected early. The benefits of early detection, however, are only available to those who commit to proactive conservative scoliosis treatment, rather than traditional surgical scoliosis treatment.
For those in search of Trinidad scoliosis treatment, local treatment options can be limited, but a 5-hour flight to Orlando, Florida provides access to the standard-setting non-surgical scoliosis treatment of the esteemed Dr. Tony Nalda, of the Scoliosis Reduction Center.
A patient's scoliosis journey starts with a diagnosis, so let's start with what being diagnosed with scoliosis means to patients.
Being Diagnosed with Scoliosis
It's not easy to diagnose patients with scoliosis, but reaching a diagnosis can be the first step on the road to treatment success and improving overall quality of life.
Being diagnosed with scoliosis means an abnormal sideways curvature of the spine has developed, and as the curve also rotates, the twisting element makes it a 3-dimensional condition.
The hardest part of a diagnosis, to explain to patients, is that as a progressive condition, scoliosis is incurable as it has it in its nature to get worse over time; however, particularly when conditions are detected early and responded to with a proactive treatment plan, scoliosis can be highly treatable.
Scoliosis is also a highly-variable condition, meaning no two cases are the same.
Part of diagnosing scoliosis involves comprehensive assessment so conditions can be further classified based on key patient/condition variables.
A patient's Cobb angle is a measurement taken during X-ray that classifies conditions based on severity, and this is a key piece of information that guides the crafting of effective and customized treatment plans.
The higher a patient's Cobb angle, the further out of alignment the spine is, and the more severe the condition:
Mild scoliosis: Cobb angle measurement of between 10 and 25 degrees
Moderate scoliosis: Cobb angle measurement of between 25 and 40 degrees
Severe scoliosis: Cobb angle measurement of 40+ degrees
Very-severe scoliosis: Cobb angle measurement of 80+ degrees
So where a patient's scoliosis is at the time of diagnosis isn't indicative of where it will stay; only proactive treatment can work towards counteracting the condition's progressive nature.
Choosing a scoliosis treatment approach to commit to is an important decision to make because the spine responds differently to surgical versus non-surgical treatment.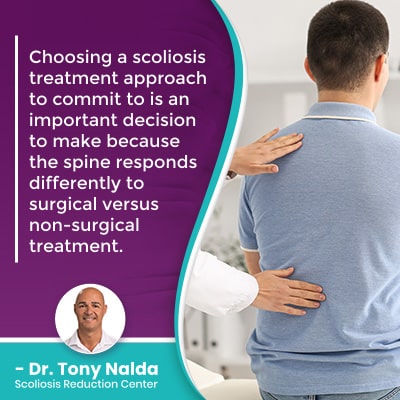 Some looking for an effective non-surgical scoliosis treatment option travel across the world to access the type of treatment results achieved at the Scoliosis Reduction Center, so for Trinidad residents, a 5-hour flight is manageable.
The Benefits of Non-Surgical Scoliosis Treatment
Traditional scoliosis treatment commonly funnels patients towards spinal fusion surgery, and while spinal fusion continues to have a place in scoliosis treatment, we now know that scoliosis also responds to a number of other less-invasive treatment modalities.
Spinal fusion involves fusing the curve's most-tilted vertebrae into one solid bone; this is done to eliminate movement (progression), and then rods are often attached to the spine with screws to hold it in place.
While spinal fusion can be successful at straightening a bent spine, the way it's achieved can cost the spine in terms of its natural strength and function, and this is a result many patients are surprised and disappointed by.
A more natural conservative approach offers an alternative to costly, lengthy, and invasive spinal surgery, and the potential risks, side effects, and complications it can come with.
Here at the Center, I treat my scoliosis patients proactively by starting treatment when a condition is at its mildest as this is when treatment success is the most likely.
As scoliosis progresses, the spine gets increasingly rigid, making it less responsive to treatment and can make it difficult for some patients to perform certain therapeutic exercises as part of treatment.
There are never treatment guarantees, but treatment started early in a condition's progressive line is simpler than treatment started once a condition has already progressed significantly.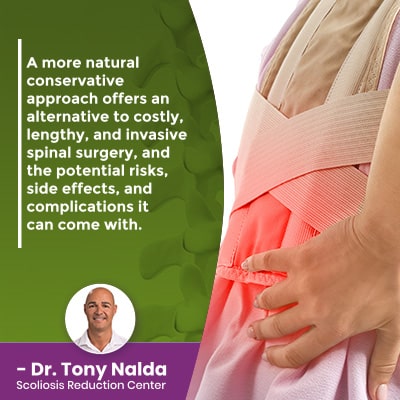 The complex nature of scoliosis necessitates the customization of treatment plans, and as conservative treatment integrates multiple treatment modalities into treatment plans, this can be highly beneficial.
Throughout treatment, I observe how the patient and spine is responding and adjust the different disciplines accordingly.
Condition-specific care is applied in an effort to reduce the curve on a structural level, and physical therapy can help increase core strength so the spine is optimally supported, improve posture, address any related muscle imbalance, and activate certain areas of the brain for improved brain-body communication.
Corrective bracing can help augment corrective treatment results by pushing the spine into a corrective position, and rehabilitation involves a series of custom-prescribed home exercises to further stabilize and heal the spine.
Conclusion
So those from Chaguanas, San Fernando, and Mon Repos in search of non-surgical scoliosis treatment in Trinidad and Tobagao might have limited local treatment options, but a 5-hour flight puts them within reach of world-renowned scoliosis chiropractor, Dr. Tony Nalda, and the Scoliosis Reduction Center's impressive results.
Once a scoliosis diagnosis is given, the most important decision for patients to make is how to treat the condition moving forward, and this means deciding between traditional and modern conservative treatment: treating scoliosis with surgery or condition-specific chiropractic care.
For those interested in seeing what Celebration, Florida's non-surgical treatment center has to offer, they can also check out the state's attractions, of which there are many: Disney World, Universal Studios, beautiful beaches, and more.
What I want most for scoliosis patients, and their families, is to be aware of all treatment options available to them, the different potential results they offer, and how various treatment options affect the spine differently.
Those choosing to forgo a surgical recommendation and/or who prefer to try a less-invasive form of non-surgical treatment first, can reach out here.