Not only are there different scoliosis treatment approaches for patients to choose between, there are also different scoliosis braces. Traditional braces, like the Boston brace, have the goal of stopping progression, while corrective modern braces, like the ScoliBrace, have correction as the end goal.
Scoliosis bracing can work in different ways, depending on the type of brace in question. Traditional scoliosis braces squeeze the spine to manage progression, while modern braces push the spine into a corrective position to augment corrective treatment results.
Before getting to the specific differences between traditional and modern scoliosis bracing, let's first define and explore the condition itself.
What is Scoliosis?
There are a number of spinal conditions that involve a loss of the spine's healthy curves and alignment, and while most have heard of scoliosis, few realize just how prevalent it is.
The Scoliosis Research Society puts current estimates at close to seven million people living with scoliosis in the United States alone, and scoliosis is the leading spinal condition amongst school-aged children.
There are no treatment guarantees, but scoliosis that's detected and treated early is more likely to respond favorably to treatment, and while scoliosis is incurable, it can be highly treatable.
Scoliosis is the development of an unnatural lateral (side-to-side) spinal curvature that also rotates (twists from front to back, back to front).
Scoliosis is a progressive spinal condition, meaning its nature is to get worse over time, and scoliosis progressing means the size of the unnatural spinal curve is increasing, and this means the spine is becoming more rigid, less responsive to treatment, and more complex to treat.
While there are never treatment guarantees, scoliosis that's detected and treated early in the condition's progressive line is more likely to respond favorably to treatment.
The condition's progressive line is mild to moderate and severe to very severe, and these are also the condition's severity levels.
Condition Severity
Condition severity is determined by a measurement known as Cobb angle, and a patient's Cobb angle is determined during X-ray by drawing lines from the tops and bottoms of the curve's most-tilted vertebrae at its apex; the resulting angle is expressed in degrees.
The higher the Cobb angle, the more misaligned the spine is, the more severe the condition, and the more noticeable its effects are likely to be:
Mild scoliosis: Cobb angle measurement between 10 and 25 degrees
Moderate scoliosis: Cobb angle measurement of between 25 and 40 degrees
Severe scoliosis: Cobb angle measurement of 40+ degrees
Very-severe scoliosis: Cobb angle measurement of 80+ degrees
Different Types of Scoliosis
Now, there are also different types of scoliosis, and for our particular context of scoliosis bracing, we need to focus on the condition's most-prevalent type, as bracing is used most often amongst this age group: adolescent idiopathic scoliosis (AIS), diagnosed between the ages of 10 and 18.
The idiopathic designation means not clearly associated with a single-known cause, and approximately 80-percent of known diagnosed cases are classified as idiopathic, and the remaining 20 percent are associated with known causes: neuromuscular scoliosis, degenerative scoliosis, and congenital scoliosis.
Braces can be particularly effective on growing spines, so scoliosis bracing is mainly used in the treatment of child scoliosis; when it comes to treating adult scoliosis, bracing is used more so for pain management and spinal-stabilization than working towards a significant curvature reduction.
Now that we've addressed some key condition features, let's move on to answer the question, how does a scoliosis brace work?
Scoliosis Brace Options: Traditional vs New Bracing
How Does a Scoliosis Brace Work?
As mentioned earlier, there are different scoliosis braces that can be used as part of treatment, so answering how a brace works will vary depending on the brace in question.
Let's divide the discussion into two sections: how a traditional scoliosis brace works, and how a modern scoliosis brace works.
Traditional Scoliosis Bracing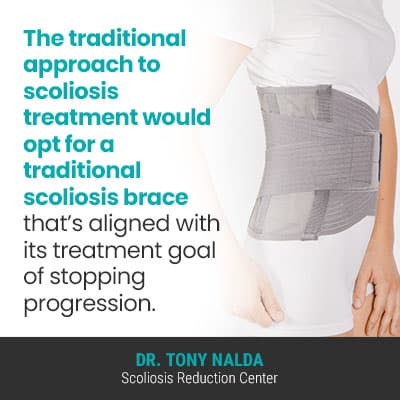 The traditional approach to scoliosis treatment would opt for a traditional scoliosis brace that's aligned with its treatment goal of stopping progression.
Traditional scoliosis treatment doesn't have a strategy for addressing scoliosis while mild, so is more about observing a condition until it becomes severe enough to treat with surgery.
Spinal fusion surgery can indeed straighten a bent spine, but the way it does so, by artificial and invasive means, can cost the spine in terms of its overall health, strength, and function.
Spinal fusion involves fusing the curve's most-tilted vertebrae into one solid bone, and rods are commonly attached with screws to the spine to hold it in place; this is done to eliminate movement (progression) in the fused section.
The only effort made to prevent progression, prior to surgery, in traditional scoliosis treatment is bracing, generally applied when/if mild scoliosis progresses to biome moderate scoliosis.
The most-prevalent type of traditional brace used is the boston brace, and its methodology is based on squeezing the spine into a better position so movement (progression) is eliminated; it does this via a three-point pressure system that squeezes the spine at strategic points along the curvature.
However, the boston brace is limited in its potential efficacy because it doesn't address the condition as 3-dimensional, ignoring its rotational component.
In addition, the boston is associated with the additional shortcomings:
Squeezing the spine can weaken it over time
It can increase related postural deviation
The boston isn't fully customized to each patient so can be uncomfortable to wear = compliance issues
Can cause breathing issues
Skin can become chaffed
Can cause activity restrictions
Modern scoliosis bracing represents the culmination of what we've learned about scoliosis, and bracing efficacy, over the years, so addresses many of the shortcomings associated with traditional bracing.
Modern Scoliosis Bracing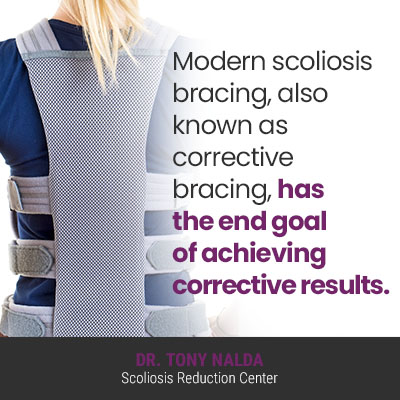 Modern scoliosis bracing, also known as corrective bracing, has the end goal of achieving corrective results.
Correcting a scoliosis means achieving a curvature reduction on a structural level and increasing core strength so the spine is optimally supported and stabilized by its surrounding muscles.
The type of modern brace I favor is the ultra-corrective ScoliBrace, and here at the Scoliosis Reduction Center, the ScoliBrace complements our main treatment goal: correcting scoliosis on a structural level.
Traditional scoliosis bracing is limited not only by its design, but also by its aligned traditional  treatment approach that doesn't apply different types of treatment, in addition to a brace, in an effort to prevent progression.
Modern conservative scoliosis treatment knows that as a structural condition, scoliosis has to, first and foremost, be impacted on a structural level, so applies multiple different types of treatment that can work together, combining forces to proactively work towards preventing progression.
In addition to corrective bracing, chiropractic care, physical therapy, and rehabilitation are additional facets of a conservative and modern treatment approach.
The modern ScoliBrace addresses many of the boston's shortcomings by:
Addressing the true 3-dimensional nature of scoliosis
Pushing the spine, instead of squeezing it, so its strength is preserved
Pushing vs squeezing also reduces potential breathing issues
Using state-of-the-art technology to ensure that every brace is fully customized to address a patient's body/condition type
Making them more customizable and less bulky to wear = better rates of compliance
Although no brace on its own has the power to reduce scoliosis on a structural level, when combined with other types of effective treatment disciplines, as modern scoliosis treatment does, they can complement one another and work together so conditions are impacted on every level.
Conclusion
So to clearly answer the question, are scoliosis braces effective, the answer will be case-specific and depend on the type of brace in question.
When it comes to traditional scoliosis treatment, the most common brace used is the boston brace, which is associated with a number of shortcomings, as is traditional scoliosis treatment that is more reactive than proactive.
When it comes to treating progressive conditions like scoliosis, being proactive is key because scoliosis is simpler to treat while mild; as scoliosis progresses, it becomes more complex to treat, and proactively working towards preventing progression and increasing condition-effects is far more effective than attempting to reverse those effects once they're established.
The most commonly used corrective brace, and the one favored by the Scoliosis Reduction Center, is the modern and ultra-corrective ScoliBrace.
The ScoliBrace addresses what we've learned about scoliosis, bracing, and treatment efficacy over the years, and it also addresses the shortcomings associated with traditional scoliosis bracing.
When combined with other effective treatment disciplines such as chiropractic care, physical therapy, and rehabilitation, corrective bracing can be a valuable facet of treatment by pushing the spine into a corrective position.
Regardless of type or severity level, as a progressive spinal condition, the best time to start scoliosis treatment is always now, and those looking for guidance on the different types of scoliosis braces, and treatment options available, should reach out for support.
As such a highly-variable condition, it's important that patients are aware of all treatment options available to them because different treatment approaches are associated with different potential outcomes; the choice to commit to one over another can have far-reaching effects.