Treating scoliosis with surgery is the default approach taken by the traditional medical establishment. It has become so normalized and so routine, though, that I'm afraid people don't fully understand what it means to undergo surgery for scoliosis.
Spinal fusion scoliosis surgery, for example, is a serious procedure. It changes the body significantly, and it alters the course of a patient's life irreversibly. Yes, surgery has become the standard for treatment; I just want patients and their families to understand what they are getting themselves into when they opt to engage in this approach.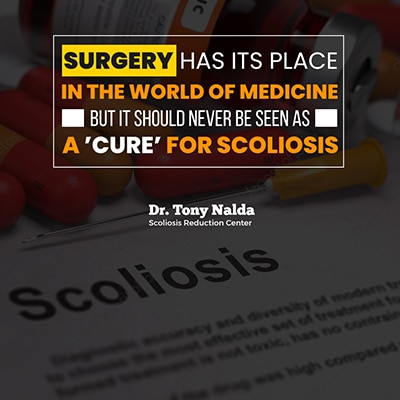 Surgery has its place in the world of medicine, but it should never be seen as a "cure" for scoliosis. In my opinion, surgery should only be seen as a last resort. There are alternative, effective approaches to consider that are far less invasive — and considerably less expensive. Spinal fusion scoliosis surgery is used so frequently that it has become routine, though. Patients and family members rarely question the conventional wisdom about surgery. And they almost never get the facts about surgery before opting to go under the knife.
Of course, I am biased toward the chiropractic-centered approach to scoliosis treatment that we employ here at the Scoliosis Reduction Center. But I am proud to stand behind the results we achieve every day with our patients. Patients often come to us feeling confused or scared by the prospect of impending surgery. They do not realize that there is another way. And they don't fully understand the consequences of watching and waiting on their way to the operating room.
We are able to give our patients a perspective that is rare in the world of scoliosis. And we are able to give them hope. If our treatment methods fail to produce results, surgery is always an option down the road. I just think it's important for patients to understand exactly what spinal fusion scoliosis surgery entails.
Here's what you should know:
Spinal Fusion Surgery Is not a Scoliosis Cure
Can spinal fusion scoliosis surgery provide relief? Yes. Is spinal fusion scoliosis surgery a cure? No!
To be perfectly honest, there is no cure for scoliosis. No single procedure or form of therapy will ever magically cause the condition to disappear, and there is no pill for scoliosis patients to take that will reverse their spinal curvatures.
Spinal fusion surgery can absolutely reduce or stabilize a curve. It does not, however, return the body to a "normal" state. It does not address any of the underlying causes of the condition. In fact, it can introduce a whole new slate of potential problems. What's more, patients can experience a worsening of their condition even after they have undergone "successful" spinal fusion scoliosis surgery!
Spinal Fusion Surgery Involves the Removal of Discs
Spinal discs are crucial to the human anatomy. But they are technically not essential for having a functional body. One sometimes overlooked aspect of spinal fusion surgery is the fact that it involves the removal of these discs, as if they are merely accessories.
For many patients, the removal of spinal discs will not create a noticeable impact. But for others, the loss of these shock-absorbing components of the spine contributes to further damage, particularly if they are subject to traumatic forces. Automobile accidents, for instance, can introduce trauma and shock, with forces transferred to rigid surgical rods. This can cause an incredible amount of damage to the body.
Spinal Fusion Surgery Can Reduce Mobility Considerably
Scoliosis surgery has become so normalized in our culture that patients believe they can go on living and moving their bodies just as they did prior to surgery. While it's true that some patients can experience similar levels of mobility before and after surgery, this is rare. In most cases, patients experience a noticeable decrease in mobility.
According to this study, mobility decreases by an average of 25% after spinal fusion scoliosis surgery. Another study revealed that decreases in mobility remain even after 20 years. I have seen countless patients over the years, and it is clear to me that patients who undergo surgery suffer a marked decrease in mobility compared to their counterparts who undergo alternative forms of treatment.
Far too many scoliosis patients opt to undergo surgery without realizing the permanent effects it can have on the body's mobility. I think it is critical to reckon with this reality before making such a significant decision.
Spinal Fusion Surgery Should not Be Performed on Growing Bodies
When Harrington rods are installed inside patients with bodies that are still growing, the results can be extremely problematic. Abnormal curvatures can persist and continue to develop above and below the fused areas of the spine. It is also possible for patients to outgrow the rods. When this happens, secondary surgeries become necessary in order to remove and replace the original rods. This is complicated, expensive and likely to introduce further complications.
Of course, this ties in to the "watch-and-wait" approach. Surgeons are wisely unwilling to operate on patients whose bodies continue to grow and develop. But instead of offering proactive alternatives to treatment, traditional doctors and orthopedic specialists recommend a strategy of observation and bracing, which only ensures that scoliosis will continue to develop. Inevitably, this approach leads to surgery later in life, once the body has stopped growing.
Alternative Treatments Can Improve Surgical Outcomes for Scoliosis Patients
There is no harm in treating scoliosis with alternative methods like chiropractic care and scoliosis-specific physical therapy. These types of treatments are not invasive, nor do they produce irreversible negative results. They have been shown to reduce abnormal curvatures, as well as improve key quality-of-life indicators such as pain and sleep patterns. Most importantly, these types of treatments can produce results that ensure surgery remains a last resort.
But let's say surgery truly is inevitable; if surgery absolutely must happen, alternative treatment methods can benefit patients considerably. Chiropractic-centered treatments strengthen the spine and give it increased flexibility. This can help ensure greater success — and fewer complications — in surgery.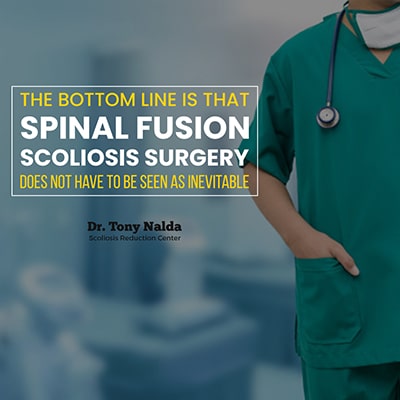 The bottom line is that spinal fusion scoliosis surgery does not have to be seen as inevitable. Alternative treatment methods, like those we employ here at the Scoliosis Reduction Center, provide relief and results. Our approach puts patients in the driver's seat, and it allows them the opportunity to make a better life for themselves without surgery. But if for some reason surgery is still required, those patients are much more likely to experience positive results if they engage in chiropractic-centered treatment. To me, that's the perfect win-win scenario.