Not everyone has access to different types of scoliosis treatment options; some people travel from across the world to benefit from a specific type of treatment approach. When it comes to non-surgical scoliosis treatment, the benefit is a spine that's treated in a way that as much of its natural curves, strength, and function as possible are preserved.
Residents of Puerto Rico don't always have access to different types of scoliosis treatment, but a flight crossing approximately 1,150 miles, 2.5 hours, can provide access to world-renowned non-surgical scoliosis treatment at Orlando, Florida's Scoliosis Reduction Center.
When it comes to Puerto Rico scoliosis treatment, some residents have to travel to access the type of non-surgical scoliosis treatment that's more accessible in other parts of the world.
How is Scoliosis Treated?
If someone is diagnosed with scoliosis, they have developed an unnatural lateral (side-to-side) curvature of the spine that also rotates, making it a complex 3-dimensional condition.
In addition, as a progressive condition whose nature is to get worse over time, how a diagnosis is responded to, in terms of treatment, can have long-term effects.
Scoliosis ranges widely in severity from mild to moderate and severe to very severe, and the more severe a condition, the further out of alignment the scoliotic spine is and the more likely it is that its symptoms are going to be noticeable.
As scoliosis introduces a lot of uneven forces to the body, it can affect it in different ways.
In children, the main symptom of scoliosis is postural deviation, caused by how the condition's uneven forces disrupt the body's overall symmetry, and in adults, as scoliosis becomes a compressive condition once skeletal maturity has been reached, pain is the main symptom of adult scoliosis.
Scoliosis progressing means the size of the unnatural spinal curve is increasing, and this makes the spine more rigid, less responsive to treatment, and means the body has more time to adjust to the unnatural spinal curve's presence.
So as scoliosis progresses in children, the most noticeable effect is increasing postural changes, and in adults, it's pain that is getting worse, and that can include localized back pain and/or radiating pain due to nerve compression, felt throughout the body and commonly in its extremities.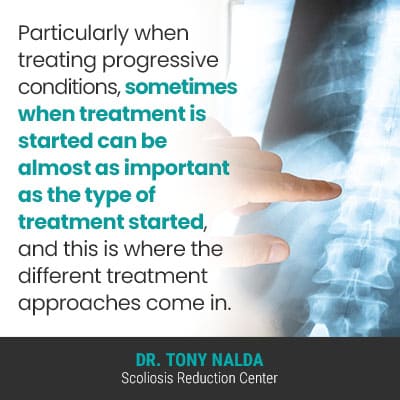 Particularly when treating progressive conditions, sometimes when treatment is started can be almost as important as the type of treatment started, and this is where the different treatment approaches come in.
Scoliosis Treatment Options: Traditional versus Conservative
Although traditional scoliosis treatment was the dominant treatment approach for many years, that doesn't mean it was the best, nor only treatment option available.
Over the years, our understanding of scoliosis and treatment efficacy has evolved, and we now know that scoliotic spines don't just respond to surgery, but also to a conservative chiropractic-centered treatment approach.
So traditional treatment can be described as reactive because it doesn't actively work towards preventing progression, but chooses instead to monitor for it, then respond with surgery if a condition progresses into the severe classification.
Spinal fusion surgery has a place in scoliosis treatment, but the reality is that many cases don't require surgery, and spinal fusion can come with some serious potential risks, side effects, and complications.
The type of conservative chiropractic-centered treatment patients of the Scoliosis Reduction Center benefit from can be within reach for residents of Puterto Rico willing to cross 1,900 miles and undergo a 2.5 hour flight.
So those looking for San Juan non-surgical scoliosis treatment, Bayamón scoliosis treatment, and Carolina scoliosis treatment, although a distance away, Celebration, Orlando's Florida's Dr. Tony Nalda has achieved some impressive results.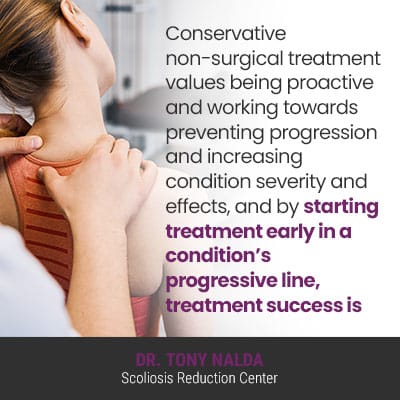 Conservative non-surgical treatment values being proactive and working towards preventing progression and increasing condition severity and effects, and by starting treatment early in a condition's progressive line, treatment success is more likely.
While there are never treatment guarantees, with scoliosis that's detected and treated early, there are fewer limits to what can be achieved.
Through condition-specific chiropractic care, I can actually work towards reducing the curve size on a structural level, and once I start to see a curvature reduction, I can shift the focus to physical therapy to increase core strength so the spine's surrounding muscles can provide it with optimal support and stabilization.
Corrective bracing can be particularly effective on growing spines and can help by pushing the spine into a corrective position, and rehabilitation is continued to further stabilize and heal the spine.
By integrating multiple treatment disciplines into treatment plans, they can be fully customized and conditions can be impacted on every level.
Conclusion
So for Puerto Rico residents looking for a non-surgical scoliosis treatment option, look no further than the treatment center that many cross the globe for: Dr. Tony Nalda's Scoliosis Reduction Center.
And for those visiting Dr. Tony in Florida, why not take in the local attractions to make the journey even more worthwhile: Disney World, Universal Studios, SeaWorld, and some of the country's most-popular beaches.
When it comes to being diagnosed with scoliosis, the key to potential treatment success is in when treatment is started and the type of treatment started.
While I can never give treatment guarantees, in cases of scoliosis that are detected and treated early, the spines are more flexible and responsive to chiropractic care, and condition-improvement is simpler to achieve.
So if you, or someone you care about, has received a diagnosis and possibly even a surgical recommendation, that doesn't mean spinal fusion is the only option, and reaching out for guidance can put patients on the path of condition improvement through less-invasive non-surgical scoliosis treatment.