When it comes to how to fix scoliosis naturally, I want to be clear that scoliosis is incurable, so the more relevant question becomes how to manage the condition naturally, rather than 'fix' it. Managing scoliosis naturally is a complex process because in order for it to be done effectively, it involves coordinating multiple forms of treatment.
There are two main approaches to treating scoliosis: traditional and natural. To better understand what it means to manage scoliosis naturally, let's first spend some time discussing what's considered to be the opposite more invasive approach: traditional.
Traditional Treatment Approach
When it comes to treating scoliosis, there are basically two main approaches. The first is known as 'traditional' and is the more invasive approach. Most often, this approach will lead to a recommendation of spinal-fusion surgery once a patient's curvature has progressed to a certain level.
The traditional approach is not considered natural because surgery involves the use of unnatural hardware, such as rods, screws, and wires, to hold the spine in place while the vertebrae fuse.
In these situations, spinal-fusion surgery isn't considered non-invasive or natural because people are dealing with the consequences of the surgery for the rest of their lives.
Natural Treatment Approach
When we talk about a natural approach to scoliosis treatment, this would most likely include a combination of exercise, bracing, therapy, and chiropractic care. As you can see, a more natural approach involves combining multiple disciplines.
The problem with a natural approach like this is that it can be very fragmented. What this means is that each discipline has its own specialist the patient would work with.
For example, someone wanting to learn scoliosis-specific exercises would go see an exercise specialist. Someone wanting physical therapy would go see a physical therapist. A chiropractor would be necessary for scoliosis-specific chiropractic treatment. A massage therapist would be needed for someone wanting help with muscle and soft-tissue therapy. If someone was needing assistance with a brace, they would go see an orthotist.
Each and every discipline is a powerful form of treatment, but when they are all fragmented, each specialist is doing their own thing and using their own approach. The issue with this is these disciplines aren't talking to each other and coordinating their multi-faceted approach to natural treatment.
As it's virtually impossible to find a doctor who's schooled in all of these different treatment approaches, that's where the Scoliosis Reduction Center comes in.
Scoliosis Reduction Center Approach
It's the concern over this fragmented approach that inspired me to open up the Scoliosis Reduction Center. Here, our patients have access to multiple forms of natural treatment approaches in one location. This encourages and facilitates the communication and coordination that's necessary to make a natural approach an effective and coordinated form of treatment.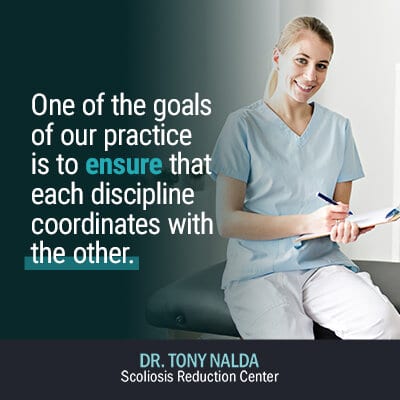 One of the goals of our practice is to ensure that each discipline coordinates with the other. What we don't want to happen is to have a patient in a brace doing exercises that work against the brace, or a patient undergoing physical therapy that's working against their massage therapy.
The result of different forms of treatment working against each other is what tends to happen when multiple disciplines aren't coordinated, or when one individual isn't overseeing everything.
When a patient has to travel from one location to the next to have access to different forms of treatment, those disciplines can work against one another, instead of complimenting each other.
To be clear, I'm not saying a natural approach to treating scoliosis isn't possible; what I'm saying is in order for that natural approach to be the most effective, it has to be coordinated and managed properly by one doctor whose job is to ensure that the different modalities are working together.
The Path of Care
One thing that's strange in this country is that natural treatment, also known as 'conservative treatment', is managed by a surgeon.
If your child or adolescent is diagnosed with scoliosis, their pediatrician will refer them straight to an orthopedic surgeon. The pediatrician won't send the patient to see someone who specializes in conservative treatment.
From the moment that patient is sent to a surgeon, the surgeon who specializes in scoliosis surgery, not conservative treatment, is in charge of managing that patient's scoliosis. Their traditional treatment approach can include observation, bracing, and/or surgery.
This is counterintuitive to me because if I'm going to have scoliosis surgery, I want my surgeon to only specialize in scoliosis surgery. If I was wanting to avoid surgery or take a more natural approach, I wouldn't want someone whose specialty and treatment focus is surgery to be in charge of that.
No matter how amazing a surgeon is at performing surgery, they can't possibly be trained and up to date on every alternative form of treatment such as rehabilitation, therapy, exercise, and chiropractic care. If your surgeon is good at these things, then you're seeing the wrong surgeon.
The Path of Treatment
What I see as a major flaw in the treatment path for scoliosis patients could be amended with the presence of an intermediary.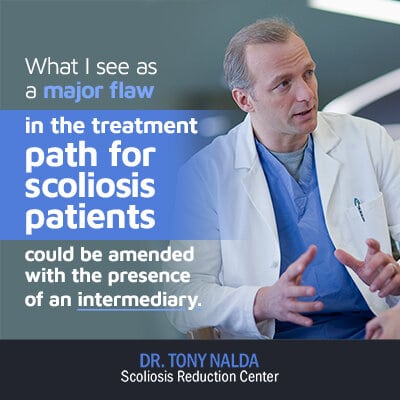 This is how I see an effective path of treatment being established. First, it should be a pediatrician that screens for scoliosis. If scoliosis is present, that pediatrician should then send that patient to a doctor who specializes in conservative scoliosis treatment.
If that conservative approach to treatment fails, then the patient should be referred to a surgeon to discuss the next treatment option: invasive spinal surgery.
Here in the United States, the whole approach to managing scoliosis patients with natural forms of treatment is organized by surgeons who are experts in surgery, not a more conservative natural treatment approach.
This is the reason that fixing scoliosis naturally has such a high failure rate in our country. It's not that the natural approach is less effective; it's that it's often managed by the wrong medical profession.
Conclusion
When a person is faced with a scoliosis diagnosis, they have the important task of choosing a treatment approach. The two main treatment forms that patients and their families are faced with choosing between are traditional and natural.
The traditional path of treatment most often involves observing, bracing, and surgery. Monitoring progression means once a patient's condition progresses to a certain severity level, spinal-fusion is the recommended treatment option.
The less-invasive natural path of treatment involves combining multiple modalities such as exercise, therapy, rehabilitation, bracing, and chiropractic care. The negative to this approach is that it's often managed by a surgeon, whose specialty is surgery, and not the aforementioned treatment modalities.
What I always say to patients is that whatever your medical issue is, make sure it's your chosen doctor's specialty. You want the person in charge of your care to be an expert in the type of treatment they're providing; that way, you know they're up to date on the latest research and advancements.
While the natural approach to scoliosis treatment has a lot to offer patients in terms of efficacy, if it's not managed by the right person, it can fall flat. As the nature of a conservative treatment approach is to combine the benefits of multiple treatment modalities, those modalities have to be appropriately coordinated so they're not counteracting each other's effectiveness.
This focus on communication and coordination is the cornerstone of our approach here at the Scoliosis Reduction Center. In one accessible location, our patients have access to the benefits of multiple forms of treatment, with the confidence of knowing that our specialists communicate and work together.