Not all cities, provinces, and countries have the same types of scoliosis treatment options available, and for those in search of Alberta, Ontario, Northwest Territories non-surgical scoliosis treatment, Celebration, Florida is home to a standard-setting scoliosis treatment center; continue reading to learn more.
For those interested in world-renowned non-surgical scoliosis treatment, Dr. Tony Nalda Scoliosis Reduction Center in Orlando, Florida offers just that; Canada scoliosis treatment can access the Center's benefits with an approximate 3-hour flight.
The most important decision to be made following a scoliosis diagnosis is how to treat it; different types of treatment offer patients different types of outcomes.
Being Diagnosed with Scoliosis
Being diagnosed with scoliosis means an unnatural spinal curve that bends to the side has developed, and in order to be considered a true scoliosis, the spine also has to have a rotational component.
The spine's tilted vertebrae and rotation make scoliosis a 3-dimensional structural spinal condition, and as a progressive condition, where a patient's scoliosis is at the time of diagnosis is rarely indicative of where it will stay.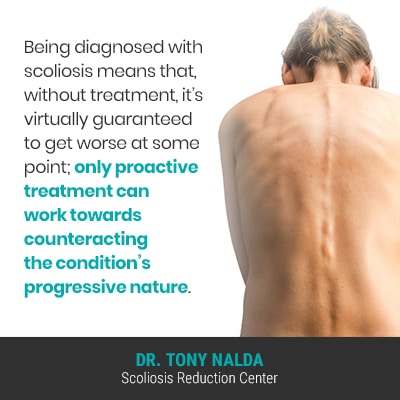 Being diagnosed with scoliosis means that, without treatment, it's virtually guaranteed to get worse at some point; only proactive treatment can work towards counteracting the condition's progressive nature.
Scoliosis ranges widely in severity from mild to moderate and severe to very severe, and this is also the condition's progressive line.
As scoliosis progresses in children, the main effect is postural deviation, caused by the condition's uneven forces disrupting the body's overall symmetry, and in adults, it's pain that tends to become more noticeable over time.
As scoliosis doesn't become a compressive condition until adulthood, this is when it tends to become painful; compression of the spine and its surrounding muscles and nerves is the main cause of condition-related pain.
While there are never treatment guarantees, treatment that's proactive and started while scoliosis is still mild tends to have fewer limits, but that will depend on the chosen treatment approach.
Scoliosis Treatment Approach: Modern Conservative Scoliosis Treatment versus Traditional Surgical treatment
Modern conservative scoliosis treatment is non-surgical and offers patients an alternative to invasive, lengthy, and costly spinal fusion surgery.
For those whose Canada scoliosis treatment options don't include a Center that offers access to multiple types of condition-specific treatment under one roof, Dr. Tony Nalda's Scoliosis Reduction Center in Orlando, Florida is accessible with an approximate 3-hour flight.
For over 20 years, the Center's results have supported the assertion that not all cases of scoliosis require surgery.
Particularly when conditions are detected and treated while mild, scoliosis can be highly treatable, before significant progression has occurred that makes the spine more rigid and less responsive to treatment, and before the body has had ample time to adjust to the unnatural spinal curve's presence.
In addition, as condition-effects increase with progression and tend to become more noticeable, it's far more effective to proactively work towards preventing progression, than to work towards reversing those effects once they're established.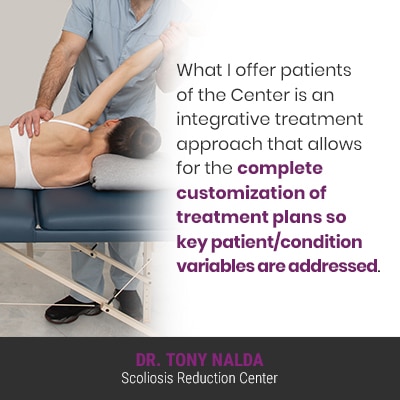 What I offer patients of the Center is an integrative treatment approach that allows for the complete customization of treatment plans so key patient/condition variables are addressed.
I combine condition-specific chiropractic care, physical therapy, corrective bracing, and rehabilitation to impact conditions on every level.
Through a series of chiropractic techniques and adjustments, I can work towards repositioning the position of the curve's most-tilted vertebrae back into alignment with the rest of the spine, and as a structural spinal condition, this is where the focus of treatment should be.
Once I see structural results, I can start focusing on helping patients increase their core strength through physical therapy so optimal spinal support/stabilization is within reach, and as corrective bracing is particularly effective on growing spines, as a common facet of adolescent idiopathic scoliosis treatment, bracing can help augment corrective treatment results by pushing the spine into a straighter alignment.
The ongoing phase of treatment is rehabilitation, and this involves a series of custom-prescribed scoliosis-specific exercises (SSEs) so patients can continue to stabilize and heal their spines at home.
Unlike conservative treatment that strives to preserve as much of the spine's natural strength and function as possible, spinal fusion is contrary to the spine's natural movement-based design, and many patients are disappointed with their loss of spinal flexibility and range of motion post-surgery.
So for those who choose to forgo a surgical recommendation, or who are interested in a more natural non-surgical treatment option, canada scoliosis treatment can reach what many cross the globe for within a single flight: modern conservative chiropractic-centered scoliosis treatment with proven results.
Conclusion
Those looking for British Columbia, Alberta, Ontario, and Maritimes non-surgical scoliosis treatment should consider what crossing into the United States can offer with an approximate 3-hour flight: access to one of the world's leading non-surgical scoliosis treatment providers, Dr. Tony Nalda of Orlando, Florida's Scoliosis Reduction Center.
Canada scoliosis treatment doesn't always offer the ideal treatment centers and options, and casting a wider net to include what the United States has to offer can put patients on the road to treatment success and a better quality of life.
The most important thing I want patients, and their families, to understand is that a scoliosis diagnosis doesn't have to mean a life of limitation, and being aware of the different treatment options available, and how they affect spinal health, can be the first step towards condition improvement.
Regardless of location and severity, the best time to start scoliosis treatment is always now, so don't hesitate to reach out for guidance and support so the process can be started when it's the most likely to be successful: early in a condition's progressive line.