Chiropractic is a well-established health care profession with roots stretching back more than 100 years. Chiropractors treat more than 35 million adults and children each year in the United States alone. 95% of those who have sought chiropractic care for neck and-or back pain say it's effective, and according to a recent survey, chiropractic outperforms all other treatments for back pain, including pilates, deep-tissue massage and yoga.
Obviously, people believe in chiropractic care and the benefits it provides, particularly when it comes to treating neck and-or back pain. What's not as well understood is the benefit chiropractic can provide for scoliosis patients.
Can a chiropractor heal your scoliosis? If you've been doing your research, you have probably come across some promising information and a number of success stories. But the question of whether a chiropractor can heal your scoliosis requires an answer more complex than a simple "yes" or "no."
I believe strongly in the efficacy of chiropractic care for the treatment of scoliosis, but I also understand that there's a lot of mystery surrounding the subject.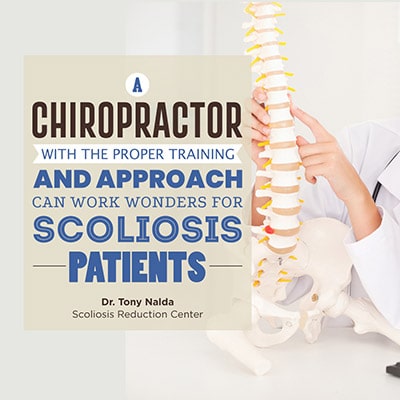 If you're wondering whether chiropractic care is the right approach for you or a loved one with scoliosis, I want to help you understand the truth about what's possible. A chiropractor with the proper training and approach can work wonders for scoliosis patients, but it's important to understand that chiropractic is not a magic pill. Moreover, chiropractic works best for scoliosis when it's used in conjunction with other therapies.
My Chiropractic Story
Since I was very young, I felt drawn to a career in medicine because of my belief in helping others. But I didn't always want to be a chiropractor. In fact, my dream was to become an MD. My course was altered in my teenage years when my life was affected significantly by debilitating migraines.
I was an athletic kid who loved participating in sports, but I had to miss huge portions of my sophomore and junior years of high school, which prevented me from participating in the activities I loved. Back then, there was no such thing as a "good" day for me. I never knew how my head would feel, and the best I could hope for was a bad day instead of a really bad day. My migraines also prevented me from studying and performing up to my potential in my classes. It was awful.
Fortunately, I was able to receive treatment from a chiropractor. I wasn't sure what to expect at first, but by the time I had received a handful of treatments, I knew it was helping me considerably. Even my very first treatment, which wasn't pleasant, provided notable relief. Chiropractic reduced the pain associated with my migraines and virtually eliminated them from my life. Thanks to this experience and the profound effect it had on my ability to enjoy life, I knew that I wanted to become a chiropractor.
Chiropractic and Scoliosis — A New Way to Treat the Condition
Fast forward to several years later — I found myself operating a highly successful chiropractic practice, treating 1,500 patients every week. I was helping lots of people and had established myself as an authority in my field. And yet, I had been unable to provide the relief I knew was possible for my scoliosis patients.
In my training, I was taught that there is very little that can be done as a chiropractor to treat scoliosis. The conventional wisdom I received told me that all I could do was manage it and keep it from progressing. One of my young scoliosis patients was not responding favorably to the treatment, and it saddened me to know that the techniques I had learned were not helping her. I wasn't willing to accept this, so I started researching alternative forms of treatment.
I learned that there was, in fact, a chiropractic approach to treating scoliosis that involved more than just adjusting. I traveled with my patient and watched her receive alternative chiropractic treatments for two weeks. This incredibly detailed level of care improved her life and fostered improvements to her condition. Her life was changed — and so was mine.
I realized that I needed to learn new approaches in order to provide relief and improvement to my scoliosis patients. I saw the results firsthand, and I knew I could provide similar relief, not only to my scoliosis patients, but all of my chiropractic patients by educating myself on alternative treatments.
These days, the chiropractic care I provide to scoliosis patients doesn't just address the symptoms; it addresses the issue at the root, just like my migraines were finally relieved by treating my spinal misalignment. No longer do I simply manage my patients' scoliosis — I help them improve their condition, making it possible for them to develop greater strength and functionality.
The Chiropractic Approach to Scoliosis
Chiropractors with the proper training can do amazing things for their scoliosis patients, but it's important to understand a few critical points about the approach: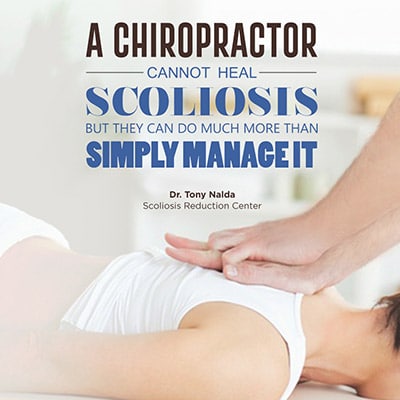 A chiropractor cannot heal scoliosis, but they can do much more than simply manage it
By taking the proper approach, the progressive nature of scoliosis can be halted, and even reversed
The chiropractic approach that's most effective utilizes adjustments in addition to exercise and corrective bracing, as well as active and passive rehabilitation techniques
The most effective approach requires patients to participate in an intensive program, meaning that they should receive a significant amount of treatment in a short period of time
Results from clinical treatment are sustained and augmented by a home-treatment program, individualized for each specific patient
This multidisciplinary approach can be difficult to obtain since it uses so many different types of treatment, which is why the Scoliosis Reduction Center has become so popular — we provide patients with access to every facet of treatment
The chiropractic approach to treating scoliosis works so well because it goes beyond addressing symptoms. It addresses the function and strength of the spine, giving patients the chance to transcend their condition and participate in life fully. Yes, it's intense and it requires a strong commitment from each patient. But the results speak for themselves!
Learn More about How a Chiropractor Can Treat Your Scoliosis
If you or your child have been simply managing scoliosis symptoms and have been told there's nothing you can do to improve function and strength, you are probably frustrated. Thankfully, there's another way to approach the condition. Here at the Scoliosis Reduction Center, we transform lives every day through our chiropractic-centered approach. If you are ready for a transformative experience that actually improves your ability to participate in life, we want to hear from you!
Call us today at 321-939-2328 to learn more.