Scoliosis treatment can be surgical or non-surgical, and while a surgical response has been around for longer, conservative non-surgical treatment is becoming more mainstream, thanks to impressive corrective results. Correcting scoliosis means impacting conditions on a structural level, with a curvature reduction, and increasing core strength so the spine's surrounding muscles can optimally support it.
For those looking for non-surgical scoliosis treatment in the Bahamas, world-renowned scoliosis chiropractor, Dr. Tony Nalda, of the Scoliosis Reduction Center, is an approximate 1.5-hour flight away in Celebration, Orlando, Florida.
Scoliosis is a complex spinal condition that needs to be treated proactively, and the first step on the road to treatment is getting a diagnosis.
What is Scoliosis?
Scoliosis is one of the most-prevalent spinal conditions; it involves the development of an unnatural sideways spiel curve, with rotation, and a minimum Cobb angle measurement of at least 10 degrees.
A patient's Cobb angle is determined during X-ray and is a key part of the diagnostic/assessment process.
The higher a Cobb angle, the more severe the condition, and the further out of alignment the spine is.
When the spine's natural and healthy curves are in place, its vertebrae are aligned, but when one or more vertebrae shift out of alignment with the rest of the spine, problems can occur.
Condition severity is also based on a patient's Cobb angle:
Mild scoliosis: Cobb angle measurement of between 10 and 25 degrees
Moderate scoliosis: Cobb angle measurement of between 25 and 40 degrees
Severe scoliosis: Cobb angle measurement of 40+ degrees
Very-severe scoliosis: Cobb angle measurement of 80+ degrees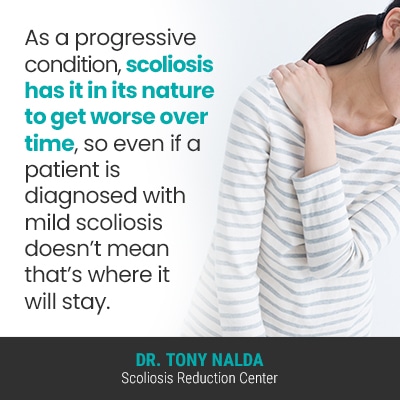 As a progressive condition, scoliosis has it in its nature to get worse over time, so even if a patient is diagnosed with mild scoliosis doesn't mean that's where it will stay.
While there are no treatment guarantees, the milder a condition is when treatment is started, the more likely treatment success is; the spine is more flexible and responsive, patients can perform therapeutic exercises as part of treatment, and the body hasn't had time to adjust to the unnatural spinal curve's presence.
And with a progressive condition, sometimes when treatment is started can be almost as important as the type of treatment started.
Scoliosis Treatment Options: Traditional vs Conservative
The reality is that not all parts of the world can access the same level and range of scoliosis treatment, but for those in the Bahamas, a non-surgical scoliosis treatment center, the Scoliosis Reduction Center, is only a short 1.5-hour flight away in Celebration, Florida.
The traditional approach to scoliosis treatment involves surgery, and as it doesn't have a strategy for addressing scoliosis while mild, the only form of treatment applied prior to surgery is traditional bracing for moderate cases, and prior to that, the common recommendation is to watch and wait.
To me, watching and waiting to see if a progressive condition progresses is wasting valuable treatment time, and conversely, a conservative approach starts treatment as close to the time of diagnosis as possible; remember, scoliosis only gets more complex to treat the more it progresses.
Traditional scoliosis surgery is known as spinal fusion, and the procedure involves fusing the curve's most-tilted vertebrae into one solid bone, and attaching rods and screws to the spine to hold it in place.
This is a costly, invasive, and lengthy procedure that does come with some serious potential risks, side effects, and complications, so the surgery should be considered carefully.
In addition, even when successful, many patients are disappointed with the loss of spinal flexibility and range of motion they are left with.
Conservative Non-Surgical Treatment
Here at the Center, I've been treating scoliosis, without surgery, for more than 20 years, and my results speak for themselves.
Conservative scoliosis treatment is also referred to as functional and/or chiropractic-centered, and this is because the approach focuses on impacting conditions on a structural level through a series of chiropractic techniques and manual adjustments.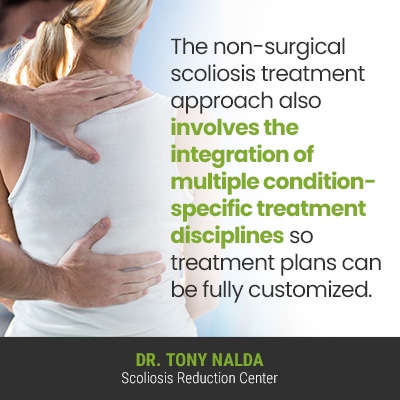 The non-surgical scoliosis treatment approach also involves the integration of multiple condition-specific treatment disciplines so treatment plans can be fully customized.
In addition to condition-specific chiropractic care, physical therapy, corrective bracing, and rehabilitation are applied in an effort to correct scoliosis, first and foremost, on a structural level.
Once I see structural results, I can start shifting the focus to increasing core strength so the spine's surrounding muscles can provide it with optimal support.
Corrective bracing and rehabilitation help to further correct, stabilize, and heal the spine for sustainable long-term treatment results.
Conclusion
So when it comes to Bahamas scoliosis treatment, don't be limited by local treatment choices, when an approximate 1.5 hour flight can provide access to multiple types of treatment under one roof at Dr. Tony Nalda's Scoliosis Reduction Center.
And while visiting the Center, why not take in some of the state's many tourist attractions: Disney World, Universal Studios, SeaWorld, and more.
So those looking for Nassau scoliosis treatment, Lucaya, Freeport, and West End scoliosis treatment have more than just medical reasons to visit the Sunshine State.
While spinal fusion can help straighten an unnaturally-bent spine, the way it does so, through artificial means, is contrary to the spine's movement-based design, and fortunately, there is another less-invasive treatment option available.
Conservative non-surgical scoliosis treatment works towards correcting scoliosis while preserving as much of the spine's natural strength and function as possible, and this is something that traditional surgical treatment can't offer.
So for those wanting to learn more about non-surgical scoliosis treatment, reaching out can be the first step on the road to treatment success and achieving a better quality of life.