In a recent blog post, I discussed the facts about treating scoliosis in young people using traditional, TLSO (Thoraco-Lumbar Sacral Orthosis) bracing apparatus. Devices like the Boston Brace, Milwaukee Brace or the Charleston Bending Brace were once seen as major innovations in the world of scoliosis treatment, and they still have their place today. However, these braces are far from the being on the cutting edge of modern scoliosis correction technology. Traditional braces like these continue to use designs from decades ago, and few innovations have been introduced in the last 40 or 50 years. Yes, they can be effective, but more often than not, they serve as clunky and cumbersome reminders of a condition that has serious impacts on how young people live their lives.
More importantly, traditional scoliosis braces can only promise to stop or slow the progression of an abnormal curvature. Even when they are worn for 16 or more hours each day for years, they have little effect on an abnormal curve.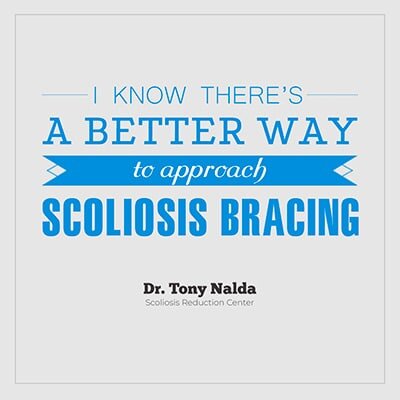 I know there's a better way to approach scoliosis bracing — one that actually improves the condition, reduces curvatures and helps restore function.
Scoliosis Correction in 3D
If you have been reading my blog or have heard me speak, you know that I like to describe scoliosis as a 3D condition. To me, it is not possible to treat scoliosis effectively as a two-dimensional condition, and yet, that is the approach used by virtually every conventional treatment method.
The fact is that scoliosis is highly complex, and reducing it to two dimensions (i.e. left to right, forward to backward, etc.) ignores most of the picture. It's a lot like the difference between looking at a postcard of the beach and experiencing the setting in real life. The postcard can give you a sense of reality, but it's severely limited and is nothing more than a mere snapshot.
Traditional, TLSO bracing techniques treat scoliosis in a two-dimensional manner, which is why they are not nearly as effective as more modern methods. Fortunately, new approaches exist. The ScoliBrace®, for example, uses a 3D approach, and when it is implemented alongside chiropractic care, exercise and therapy, it can actually reduce curvatures dramatically and correct the condition.
What Makes ScoliBrace® Different?
The ScoliBrace® offers a number of advantages over traditional scoliosis braces:
It uses the most effective corrective principles of the traditional, TLSO braces without including the problematic aspects of them
It is "over-corrective," or as I like to say, "super corrective," which means that it positions the spine in an opposite, mirror-image of how the scoliosis is shaped within an individual's body. This allows for the reduction of curvatures in a majority of cases, in addition to improvements in shoulder level, rib humping and the body's overall aesthetic appearance.
It is used in conjunction with BraceScan 3D imaging software, which allows for a custom fit designed specifically for each individual patient.
In addition to BraceScan technology, the ScoliBrace® is created with input from X rays and posture photos, and is custom designed for each patient using CAD (Computer Aided Design) software
It is designed to integrate more comfortably into a patient's life — opening and closing the brace happens at the front of the device, making it easier to wear and remove without requiring extra assistance. What's more, the ScoliBrace® is available in a variety of colors and patterns, which gives patients the chance to personalize the device as they see fit.
Although individual results vary, it can reduce curvatures, reduce pain, improve posture and enhance cosmetic aspects
ScoliBrace®: Part of a Comprehensive Approach to Scoliosis Correction
When I see young patients and talk to their families, I sense a great deal of frustration with the traditional scoliosis treatment approach. Adolescents are in the midst of a time in their lives when they should be looking to the future and dreaming of possibilities. Life should seem limitless to them. Unfortunately, the traditional treatment approach is all about limitations.
Traditional external bracing methods are designed to limit movement and limit the progression of the spine's abnormal curvature. They are designed to squeeze the spine instead of push it. These braces also limit the ways a young person can go about living life. They put patients on a path that often leads to surgery, which is a sort of internal bracing that's very limited in its ability to improve the lives of scoliosis patients.
When I was younger, I felt limited by debilitating migraines. Later in life when I became a chiropractor, I felt limited by the idea that I could only manage — and not improve — conditions like scoliosis. I found a better way to treat scoliosis; one without the limitations associated with traditional treatments. And now I'm proud to be able to use my knowledge, expertise and talent to remove the limitations that would otherwise restrict possibilities for my younger patients.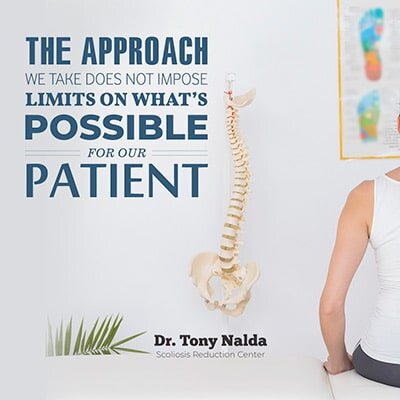 The approach we take with our patients here at the Scoliosis Reduction Center does not impose limits on what's possible for our patients. Devices like the ScoliBrace® give us a chance to truly improve the lives of young people and reduce the number of limitations they may have on their futures. When this type of bracing is done in conjunction with chiropractic care, therapy and exercise, patients see results and improvements quickly. In fact, most of my patients notice results within two weeks of starting treatment!
Real Scoliosis Correction Is Possible!
Traditional TLSO braces like the Boston Brace and Milwaukee Brace represent technology from another era. They are effective at minimizing the progression of a curvature, but will not actually produce a correction. They are also cumbersome, ugly and limiting in ways that today's adolescents will just not tolerate. But the ScoliBrace® is an entirely different technology that takes the best of the old and combines it with the latest innovations in treating scoliosis.
Many patients and parents come to me with the limited belief that it is only possible to manage scoliosis. It never occurs to them that a more modern approach could actually provide dramatic scoliosis correction! That's why I'm thrilled to do what I do. Here at the Scoliosis Reduction Center, we believe that the best results happen when we treat patients who have a 3D condition in a 3D manner. The ScoliBrace® is a big part of that approach.
Are you interested in learning more about the ScoliBrace® and the other methods we use to treat scoliosis? I invite you to call us today at 321-939-2328.