Usain Bolt is a remarkable individual: He is an eight-time Olympic gold medal winner and the holder of world records in the 100 meter dash, the 200 meter dash and the 4 x 100 meters relay. He is the fastest, most decorated sprinter in history and a living athletic legend.
But what's most remarkable about Usain Bolt is the fact that he's accomplished all of this with scoliosis.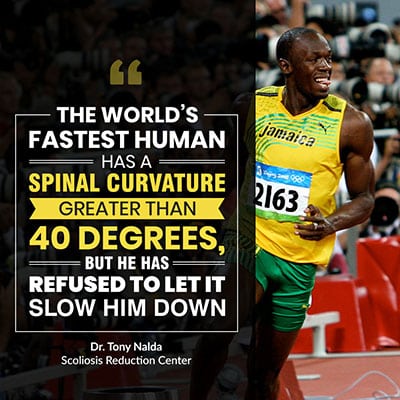 That's right — the world's fastest human has a spinal curvature greater than 40 degrees, but he has refused to let it slow him down.
What's Usain Bolt's Secret?
Certainly, Usain Bolt is a gifted athlete with an amazing set of physical attributes. At a height of 6'5", he can use his long, powerful legs to take massive, nine-foot strides. You might think that because of his obvious talent and physical gifts, he would be even faster if he did not have scoliosis.
I have a different idea about what makes him special.
The world's finest athletes are physically gifted and talented, but the true superstars all share one thing in common — they are dedicated hard workers. Usain Bolt has a tremendous work ethic, and he has applied his gritty dedication not only to running fast, but to treating his scoliosis. The two things go hand in hand, in my opinion. Maybe Usain Bolt would be faster if he didn't have scoliosis; I think he's fast precisely because he has had to work so hard to overcome and treat his scoliosis.
This goes against conventional wisdom, obviously. But some of the leading experts in the biomechanics of sprinting suggest that Bolt's stride irregularities (his right leg strikes the ground with significantly more force than his left, and his left leg remains on the ground longer than his right) have actually forced him to optimize his abilities.
Early in his career, Bolt experienced setbacks due to his scoliosis. He has said, "The early part of my career, when we didn't really know much about it (scoliosis), it really hampered me because I got injured every year." But then he and his training staff started looking into different types of treatment involving strength and conditioning exercises, as well as a more chiropractic-centered approach. Since then, Bolt says, "If I keep my core and back strong, the scoliosis doesn't really bother me. So I don't have to worry about it as long as I work hard."
Bolt uses an approach similar to the one we use here at the Scoliosis Reduction Center to treat his condition and enhance his performance. The combination of chiropractic techniques and sports rehabilitation practices — along with Bolt's willingness to put in the necessary hard work — are key to his ability to run faster than any human in history.
How Can You Be Like Bolt?
Living with scoliosis has traditionally meant that you would have to limit your life severely and hope that surgery might magically solve your condition. Usain Bolt's example proves this idea wrong. You may not have your sights set on Olympic gold medals or world records on the track, but you can draw inspiration from Bolt's approach.
The key, in my opinion, is to take a proactive — not reactive — approach to your condition. The traditional approach to scoliosis is a passive, reactive one that asks patients to "wait and see" what happens. I'm not saying that this approach should never be taken, but I think it's important to consider what's possible instead of dwelling on what's impossible because of scoliosis.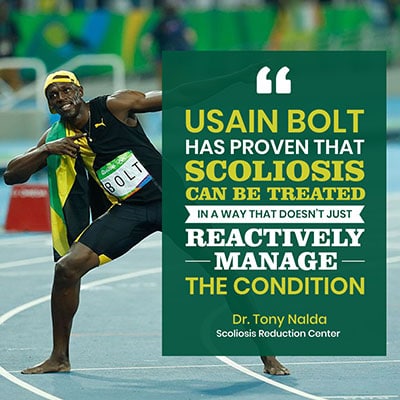 Usain Bolt has proven that scoliosis can be treated in a way that doesn't just reactively manage the condition. His example shows us that the spine can be strengthened and made more functional by using an approach like the one we take with our patients here at the Scoliosis Reduction Center. He also demonstrates that with hard work and dedication, just about any goal is attainable.
You can be like Bolt! But you will have to take charge of your condition and work hard. If you're like most of my patients, you have a lot of goals you want to achieve, and you aren't going to let scoliosis stand in your way. A fulfilling and functional life is possible through hard work and a proactive approach. You can change the course of your future, but it's only going to happen when you start considering what's possible instead of what's impossible.
Learn More about a Functional, Proactive Approach to Scoliosis
If you're curious about shattering the limits you thought would define you for the rest of your life because of your scoliosis, we want to hear from you! Our approach to treating your condition may be different from those you have considered in the past, whether it's for yourself or your child. But our results speak for themselves, and we have the success stories to prove how effective our treatment can be.
If you're interested in learning more about how you can live your best life with scoliosis, give us a call today at 321-939-2328. We can't wait to hear from you!