With close to seven million people living with scoliosis in the United States alone, the condition is far more prevalent than many realize, which is why empowerment through education is so important. Dedicating a specific time to catalyze a movement centered on open discussion is a step towards rewriting the narrative around scoliosis.
National Scoliosis Awareness Month takes place annually in June and strives to spread awareness about the condition itself, its prevalence, the merits of early detection, and the benefits of proactive treatment. 
To start our discussion of National Scoliosis Awareness Month and what it entails, let's first touch on scoliosis itself, and what it means to receive a scoliosis diagnosis.
June Is Scoliosis Awareness Month!
Understanding Scoliosis
While scoliosis has been around since ancient times, we still have a lot to learn about the condition, which is why spreading awareness is so important.
There was a time when films and television helped shape images of people with scoliosis, and when the average citizen thought about someone living with the condition, images of hunchbacks in bell towers could come to mind.
Thankfully, as the discourse around the condition has evolved from terms like spinal humps to arches and hunchback to roundback, these subtle changes, coupled with public initiatives like National Scoliosis Awareness Month, work together to rework the rhetoric around the condition.
In this way, Scoliosis Awareness Month can help people living with the condition by encouraging them to share their experiences openly and honestly, thus removing the stigma of life with spinal conditions, and helping others recently diagnosed.
So what does it mean to be diagnosed with scoliosis? Patients with scoliosis have an unnatural sideways spinal curvature, with rotation, and a minimum Cobb angle measurement of 10 degrees.
Every case of scoliosis is unique and is classified based on important condition and patient variables: patient age, condition type (causation), condition severity, and curvature location.
While scoliosis can range greatly in severity and experienced symptoms, even in mild cases, the fact that it's a progressive structural spinal condition means where it is at the time of diagnosis is not indicative of where it will stay, which is why early detection and proactive treatment are so important.
As our understanding of the condition, and the way it's presented and perceived by the public has grown, sharing accurate information can positively impact key topics such as early detection and treatment.
So what actually happens for National Scoliosis Awareness Month? Let's start with the actions of a group spearheading the public initiative: the Scoliosis Research Society.
The Scoliosis Research Society and National Scoliosis Awareness Month
The goal of National Scoliosis Awareness Month is to illuminate important characteristics of the condition and the increasing need for education, particularly when it comes to early detection.
While early detection doesn't guarantee treatment success, it does increase its chances, and as a progressive condition, early detection, when responded to with proactive treatment, can help patients avoid the hardships of increasing condition severity and the need for more invasive forms of treatment in the future.
There was a time when scoliosis screening was conducted as part of general health care in schools, but that has since changed, meaning the onus of recognizing the condition's subtle early signs now falls on the shoulders of parents and/or caregivers.
The Scoliosis Research Society (SRS) uses the campaign to cultivate a culture of inclusion for scoliosis patients, their families, medical professionals, and related businesses/organizations/community groups alike.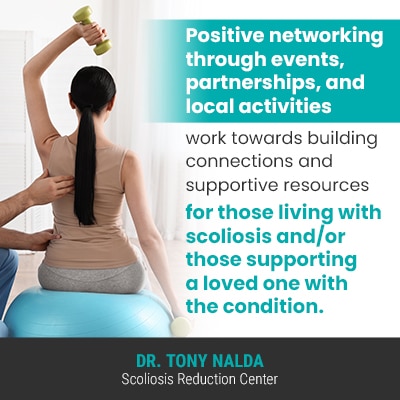 Positive networking through events, partnerships, and local activities work towards building connections and supportive resources for those living with scoliosis and/or those supporting a loved one with the condition.
One of the ways the SRS is working tirelessly to draw attention to the condition's prevalence is by asking every American state, district, and commonwealth to officially proclaim their observance of National Scoliosis Awareness Month.
Every year, more states join the initiative in their open acknowledgement that scoliosis is, indeed, a worthy condition to promote awareness of all year round, and particularly during the month of June.
As the most prevalent form of scoliosis remains adolescent idiopathic scoliosis (AIS), diagnosed between the ages of 10 and 18, we're talking about children, and with schools no longer conducting scoliosis screening, the time to act is now; awareness is more important than ever before.
To summarize, following are the main activities/goals of the SRS's National Scoliosis Awareness Month:
Referencing important studies that highlight the value of early detection and proactive forms of treatment.
To have June declared the official month of National Scoliosis Awareness across the United States.
Using networking to create a collaborative scoliosis community that connects patients, care providers, support resources, and related organizations/businesses.
Using the month of June as a catalyst for change to increase public awareness all year round by hosting promotional events/activities.
Securing future alliances so the movement is not limited to one organization, but is more collectively represented and sustained.
Early Detection and Awareness
We touched on it earlier, but as a progressive condition, scoliosis can range from mild to moderate, severe and very severe. One of the biggest benefits of awareness is that it can lead to early detection.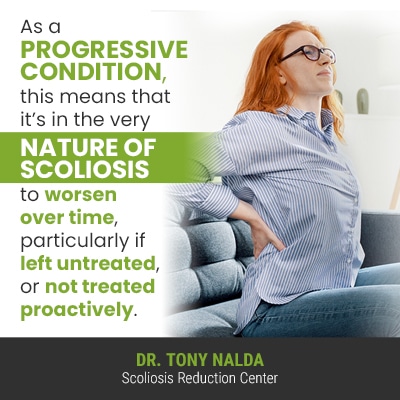 As a progressive condition, this means that it's in the very nature of scoliosis to worsen over time, particularly if left untreated, or not treated proactively.
While all forms of scoliosis are progressive, in the main type (AIS), this age group is at risk for rapid-phase progression because while we don't know what causes idiopathic scoliosis to develop, we do know what triggers its progression: growth.
As adolescents are in, or entering into, the stage of puberty characterized by rapid and unpredictable growth spurts, staying ahead of the curve is key to managing and treating scoliosis.
Here at the Scoliosis Reduction Center, I believe in proactive treatment initiated as close to the time of diagnosis as possible, but that involves first reaching a diagnosis, which is not always easy to accomplish.
Especially true of AIS, the early condition signs can be subtle and only recognizable to experts trained in the telltale signs of what to look for.
The main symptom of AIS is postural changes due to uneven forces introduced by the unnatural spinal curve, some of the earliest being uneven shoulders, an uneven waistline, and uneven hips.
These changes to the body's overall symmetry are often subtle, particularly in mild forms, and in addition, adolescents and teens are not exactly known for their compliance and transparency, so even if a young person is to notice a change or two in their body, not all would share the finding with their parents and/or caregivers.
Mild scoliosis is also not commonly known to cause functional deficits, and while related muscle pain can be present in young patients, scoliosis isn't known to be an overly-painful condition, and this is due to skeletal maturity.
For adults with scoliosis, pain is the number-one symptom that brings them in for a diagnosis and treatment, but in patients who are still growing and have yet to reach skeletal maturity, the lengthening motion of the growing spine counteracts the compressive force of the curvature.
Once the spine has settled due to gravity and maturity, the condition becomes compressive, exposing uneven pressure to the spine and its surrounding ligaments, vessels, muscles, and nerves.
Scoliosis not being overly painful for children and adolescents is why people can live for so many years with the condition unaware, allowing the scoliotic curve to progress unimpeded.
While scoliosis is often considered a condition of young people because it's most commonly diagnosed in children and adolescents, adults are also affected, and this is another example of the importance of early detection.
The most common type of scoliosis diagnosed in adults is also idiopathic, and these cases are extensions of adolescent idiopathic scoliosis that went undiagnosed and untreated during adolescence, progressing into adulthood.
Unfortunately, had these patients received a diagnosis and treatment in adolescence, their spines would be in far better shape than by the time I see them.
Here at the Center, I see a mild curvature as an opportunity to keep it that way.
It's far easier to treat a curvature while mild, before the body's had time to adjust to its presence, and before a condition has progressed significantly, as spinal rigidity accompanies progression, making the spine less responsive to treatment.
Conclusion
As National Scoliosis Awareness Month, June invites patients, caregivers, medical professionals, and communities to share their stories of scoliosis to encourage further discussion and awareness.
The Scoliosis Research Society continues to send proclamations to State leaders so they can follow suit in officially declaring the month of June as National Scoliosis Awareness Month.
Through organizing community events, networking opportunities, and public campaigns, more people become aware of just how prevalent scoliosis is in their very own community, and this leads to increased awareness of the signs of scoliosis to look for in children and loved ones: increasing chances of early detection.
In addition, having an open dialogue about scoliosis can spread messages of hope and positivity to people recently diagnosed, cultivating a scoliosis community that supports patients, their families, and treatment providers.
Here at the Scoliosis Reduction Center, the message of National Scoliosis Awareness Month is one that I follow every day: empower people with information so they can make informed decisions about treatment and recognize the condition's early signs.