There was a time when the medical community believed, with no real evidence, that swimming was an effective form of treatment for scoliosis patients. It was thought that because gravity was being eliminated, it could stop scoliosis from progressing; now, we know that scoliosis progression has little to do with gravity, and more to do with growth, especially in children and adolescents.
Gravity and Scoliosis
While there is still much we don't know about scoliosis, there is a lot we have learned over the years. One of the big shifts in understanding was around the role of gravity in scoliosis progression.
There are only three times in life when gravity isn't a factor: in space, in the womb, and in water. There was a time when doctors thought it was gravity that caused scoliosis to progress in children and adolescents.
While we still don't fully understand the cause of the condition's most common form, (adolescent idiopathic scoliosis), we do understand its number-one trigger for progression: growth and development.
It's the elongating force of growth on the spine that triggers an abnormal spinal curvature to get worse, not gravity.
When the thought was that gravity caused progression, it was a natural leap to assume that an activity like swimming, that eliminated that force, also had the potential to eliminate progression.
We've since learned that gravity doesn't play as significant a role in scoliosis progression as once thought, which also changes the views on swimming and its role as a form of scoliosis treatment.
Swimming and Scoliosis Progression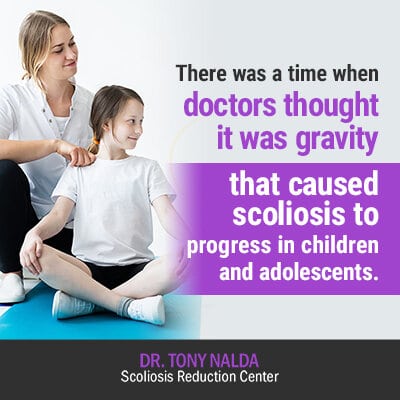 While I do think swimming can be a good general activity for people with scoliosis, it can be harmful if it reaches competitive levels.
The literature on scoliosis and swimming is mixed, and it is one form of exercise that was actually studied for its effects on scoliosis progression in children.
Some data suggests that removing people with scoliosis from their natural environment removes the compressive force of gravity, which actually strengthens the body in its efforts to resist gravity.
If a person with scoliosis is swimming competitively and is in the pool for 4 to 6 hours a day, eliminating that feedback by its unnatural positioning of the body can have negative consequences.
Activities that are classed as either helpful or harmful for people with scoliosis are generally deemed so based on the positioning of the body when they are engaged in the activity.
This is why sports that overwork one side of the body, such as golf, figure skating, and tennis are thought to have negative effects on the condition by placing uneven loads on the spine.
As scoliosis progression causes asymmetrical effects on the body, healthy sports and activities for people with scoliosis should counteract those effects, not exacerbate them.
Body Position During Swimming
While swimming works the body's muscles symmetrically, the body's positioning during swimming places the spine in an unnatural position.
The biggest issue is that in most cases, when people are swimming, they are swimming nose down, and when swimming with the nose down, you have to arch the spine to breathe.
One thing we do know is that any body-positioning that flattens or arches the thoracic spine (middle back) isn't a good exercise for people with scoliosis. Most people who treat scoliosis conservatively consider this body positioning during exercise as something that can make scoliosis worse by stimulating progression.
Any activity, such as swimming, dance, and gymnastics, that promotes a flatter back elevates the risk of scoliosis progression. These activities make the thoracic spine flatter, rather than encouraging a normal kyphosis (convex curve).
Swimming involves the same type of spine-flattening movement as dance and gymnastics; it's just that you are doing it lying down.
Some evidence suggests that for people with progressive scoliosis, swimming and activities that promote a flatter spine, actually stimulate progression, rather than limit or prevent it.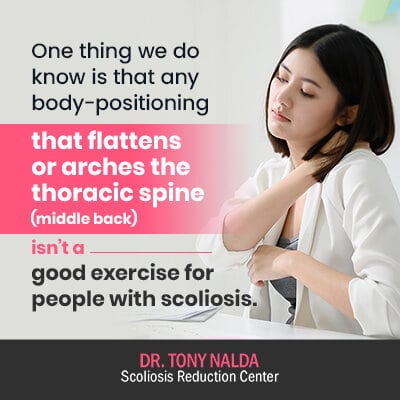 While swimming won't be the cause of scoliosis development, nor is it capable of escalating a 20-degree curve to 100 degrees, it can be a factor that adds another 5 or 10 degrees to a curvature.
The primary scoliosis treatment goal is to reduce the abnormal curvature on a structural level and limit its progression. Activities like swimming that have correlations with stimulating scoliosis progression should be limited and used only as a general form of exercise, not a competitive or frequent one.
Swimming as a General Activity vs. a Competitive Sport
As I mentioned earlier, swimming can have some merits for people with scoliosis. If used in moderation, it can be a healthy form of general exercise that promotes symmetrical muscle development, overall health and fitness, and can provide temporary pain relief.
If a person is swimming casually two or three times a week for 20/30 minutes a day, it's far less likely to produce the spine-flattening effects that are known to be harmful for scoliosis. When a person is swimming competitively and is in the pool five days a week for 4-6 hours a day, this is when it can stimulate progression.
This can also be said of virtually all forms of exercise and sports and scoliosis; it's when things become competitive in nature that the time and intensity spent has the potential to cause related issues.
This can be counter-intuitive for a lot of people who assume that a stronger core equals less scoliosis progression and better spinal support, and swimmers certainly have stronger cores; however, there is absolutely no evidence to support this view.
We know that curves progress because of the elongation of the spine that occurs during growth and development, not because of any core-weakness. This explains why scoliosis most commonly develops in adolescents between the ages of 10 and 18, as this is the group undergoing the highest level of growth and development throughout the puberty stage.
Conclusion
When it comes to swimming and scoliosis, my advice is that it should be used as a general and casual form of exercise and pain relief. When it hits competitive levels and increases in duration and intensity, this is when it can be harmful for people trying to manage and live with the condition.
While this can be said of any activity that hits competitive levels, activities that either promote the overuse of one side of the body, or cause a flatter thoracic spine to develop, are known to speed up scoliosis progression.
There are a lot of uneven forces at work with scoliosis, and the idea is that scoliosis-specific activities and exercise should work to counteract those uneven forces and promote better spinal alignment.
Activities like swimming that put the body in an unnatural position can have negative effects on the spine and, in turn, are correlated with curvature progression.
When it comes to treating scoliosis, our goal is to restore as much as the spine's healthy curves and alignment as possible. A big aspect of our integrative approach, here at the Scoliosis Reduction Center, is to use scoliosis-specific exercise to complement our other treatment disciplines such as bracing, therapy, and chiropractic.
If you are unsure as to whether or not a certain activity, sport, or exercise can have negative effects on your condition, be sure to consult with a specialist who has the experience and knowledge to guide you in your pursuit of safe activities that can augment treatment efforts.