When a patient or parent learns of a scoliosis diagnosis, they often turn to the family tree in the search for answers. They want information and an explanation for why the condition has developed. They wonder, "Is scoliosis hereditary?"
I can understand what drives patients and parents to seek answers in their genetics.
I wish I could give patients the certainty they crave as they try to understand their condition, but the fact is that scoliosis develops as a result of multiple possible factors. And there is no known cause of scoliosis in 80% of cases.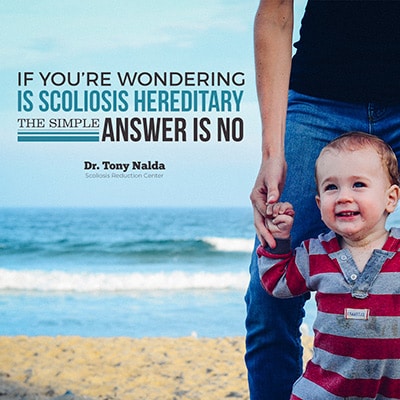 If you're wondering, "is scoliosis hereditary?" the simple answer is no. But it's actually a little more complicated and nuanced than that. Furthermore, the cause of scoliosis does not matter in terms of how the condition should be treated most effectively.
This is a tricky issue, and I want to make sure patients, parents and curious readers of the blog understand the truth about scoliosis, its development and how it is caused.
What Does Hereditary Mean?
First of all, I think it's important to understand what "hereditary" means.
In terms of genetics, when a condition is described as "hereditary," it means that it was passed down from a parent to their offspring; essentially, the parent possesses a particular defective gene, and the child inherits it.
However, truly hereditary conditions and diseases are extremely rare. The inheritance of defective genes seldom happens in reality. Yes, many conditions arise from genetic predispositions, but this is different from defective genes being passed down and inherited by children.
In the case of scoliosis, most experts agree that there is probably a genetic predisposition, but that doesn't mean that the condition is hereditary. Some people with a genetic predisposition develop the condition. Others do not. Even identical twins experience differing rates of scoliosis development. If one twin has scoliosis, the other may or may not also have it. Or they may have a completely different curvature or Cobb angle measurement.
If scoliosis were truly hereditary, every twin with scoliosis would share the condition in exactly the same manner with their identical brother or sister. And we know that's not the case!
Consider heart disease — if a person comes from a line of people who have dealt with the condition, then they may be more susceptible to it themselves. But they can ward off heart disease through diet, exercise and healthy lifestyle choices. There are simply too many factors involved to be able to say that genetics is the sole cause. Nothing is written in stone with heart disease, and the same is true with scoliosis.


Genetic Factors and the Root Causes of Scoliosis
I discussed the potential causes of scoliosis in a previous blog post, but the topic is worth revisiting here.
As I mentioned above, 80% of scoliosis cases have no known cause. This is what's referred to as idiopathic. We know something is causing the scoliosis. But identifying a single cause responsible for the condition is impossible.
Is Scoliosis Hereditary or Genetic?
Scoliosis is not hereditary and there is no single known gene responsible for the condition. There is a familial connection, though. A genetic predisposition may or may not exist within a family, but family members share much more than just their genes.
Environmental factors also come into play in terms of the development of scoliosis. Families tend to live in the same geographic areas, so those factors may be playing a larger part than genetics. Family members also tend to share things like diet, lifestyle and even posture. They experience similar stresses. They participate in similar activities, too. There's a lot more going on than just genetics, which is why it's impossible to determine a single cause.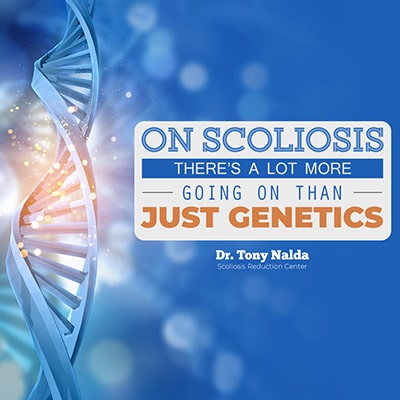 Because family members share so much in common, it's easy to see why people would assume a genetic link when scoliosis develops. But the fact is that the condition arises through a multitude of factors, making it impossible to pin the cause on any single element of a person's life or branch of their family tree.
I understand why this may be disconcerting. But the good news is that the cause of scoliosis doesn't matter when it comes to treating the condition effectively.
Scoliosis Treatment that Works, Regardless of the Cause
I see scoliosis patients of all ages from all over the world. Each one of my patients developed the condition through exposure to a variety of factors. It's possible that some of them may have been genetically predisposed, but there are probably just as many patients who developed scoliosis in the absence of a genetic predisposition.
Regardless of how they developed the condition, the approach to treating them at the Scoliosis Reduction Center remains the same — and it's been tremendously effective.
The combination of chiropractic care, exercise, therapy and specialized bracing reduces curvatures and helps patients develop strength, mobility and function. The reason is that we focus these methods on each patient as an individual. Just as there is no single known cause of scoliosis, there is no one-size-fits-all blueprint for treatment. Each patient is placed on their own specific program based on the specific nature of their spinal curvature. The four pillars of our treatment remain the same, but the journey to healing for each patient is their own.
Is scoliosis hereditary? No. There are a number of factors that determine whether a person will develop scoliosis. But regardless of the cause, the treatment we provide here at the Scoliosis Reduction Center provides real results!