Scoliosis is an unpreventable progressive condition. In treatment terms, that means monitoring the condition's rate of progression is important and X-rays are a vital part of that monitoring process. How often a person should get X-rays for scoliosis will differ from patient to patient as every condition has its own unique set of variables.
Why X-Rays are the Gold Standard for Assessing and Monitoring Scoliosis
First of all, X-rays are accessible, affordable, safe, and they give reliable results. The process of taking an X-ray is quick and patient-friendly.
It can tell us valuable information about what is happening within the body, and in the context of scoliosis, X-rays can tell us what's happening with the spine and how it's growing.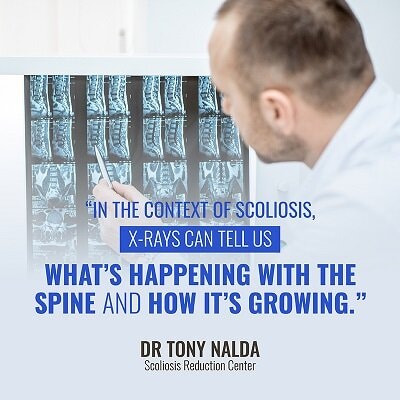 X-Ray is a Reliable Diagnostic Tool
Most conditions and diseases that are diagnosed early carry benefits for the patient; this is especially true with progressive conditions like scoliosis.
Progressive conditions are defined as conditions whose natural course is to worsen. Scoliosis is classed as a progressive condition because no abnormal spinal curvature will simply correct itself. If left untreated, a curvature will naturally progress over time.
Having a diagnostic tool like an X-ray that can show a spinal curvature early on is invaluable in terms of treatment. With early diagnosis, we can start treatment while the condition is at its mildest.
Here at the Scoliosis Reduction Center, the patients that I start treatment with during the milder stages of the condition become some of my best success stories. Initiating treatment early on gives us the best chance of slowing or stopping progression and achieving a reduction. The information and ability to diagnose early that X-ray gives us offers our patients the best possible chance of successful treatment.
X-Rays Provide Essential Measurements and Increase Treatment-Plan Efficacy
Before any solid effort can be made designing a patient-centered treatment plan, every condition has to be comprehensively assessed. The patient's Cobb angle will be measured as well as the location of the curvature along the spine.
'Cobb angle' refers to a measurement taken, via X-ray, of the scoliosis spine and how much it deviates from a straight spine alignment. That measurement places it on the scoliosis severity scale of mild, moderate, or severe.
As the gold standard for monitoring and measuring scoliosis severity, X-rays taken from different angles and positions can tell us a lot about a patient's condition. A standing X-ray can tell us how much the whole body is growing, and a seated X-ray can tell us how much the spine is growing.
X-Rays Help us Monitor Curvatures Closely
As scoliosis is a progressive condition, monitoring the patient's and the curvature's rate of growth is an important aspect of treatment. Knowing the rate of growth that a patient is experiencing is crucial information because with scoliosis, growth is the primary cause of rapid curvature progression. The main age of diagnosis is between 10 and 18 years of age, and obviously, that span includes the puberty stage which is marked by dramatic growth spurts.
Knowing where the condition lands on the severity scale and the patient's rate of whole-body growth and spinal growth helps us determine just how hard we have to work in our treatment plan to stay ahead of the curve.
How Often Should You Get X-rays for Scoliosis?
X-Ray Frequency
Those initial X-ray results can diagnose the condition and determine the patient's Cobb angle. Paired with the rate of growth, the Cobb angle and chosen treatment plan will determine how often X-rays should be taken. The goal is to stay ahead of any big growth spurts so the curve isn't allowed to progress unimpeded.
For my patients with adolescent scoliosis, obviously staying ahead of growth spurts is more of a concern and a challenge than with my adult patients. When it comes to adolescent scoliosis, my patients will get X-rays done as frequently as I suspect there is a need because growth is occurring. I determine X-ray frequency in my adolescent patients based on time or growth, whichever happens first. Basically, if there is an inch of growth, I want an X-ray to see if and how much that growth is affecting progression.
On average, most younger patients with scoliosis will have X-rays taken every three-to-six months during treatment. Initially, I X-ray every three months, and the more successful treatment is, the less frequently I order X-rays. Additional factors that determine X-ray frequency include age of the patient, severity of the condition, and the patient's current rate of growth.
Patients undergoing the more traditional treatment path are often passively observed as their curvature worsens, bringing them closer to the recommendation of spinal-fusion surgery. In these cases, I would advise patients and caregivers advocating for patients to push for more frequent X-rays. Especially in cases of adolescent scoliosis, the time between X-rays can be too long and can create the perfect conditions for a rapid curvature progression. It's not unheard of for patients with mild scoliosis to be told to return for their next X-ray in a year to see if or how much their curvature has progressed.
The slower the patient's rate of whole-body growth and spinal-curvature growth, the less frequently X-rays will be necessary; the more extreme a spinal curvature is and the faster a patient is growing, the more frequently X-rays should be taken.
People's Fear of X-Ray Radiation is Unfounded
One of the fears that people have with a condition that requires frequent X-rays to be taken is exposure to radiation. This is partially due to the fact that a lot of the available information on X-rays is outdated.
The radiation risk associated with X-rays is minimal, especially when they are taken using the most recent digital technology. X-rays were invented in the late 19th century and current machines are not the same as their predecessors. They have undergone advancements that greatly reduce the amount of radiation exposure they carry.
In the last 20 years, X-ray technology has reduced its radiation emission rate by 10 times. In addition, here at the Scoliosis Reduction Center, every X-ray taken is done with the patient's safety in mind. We use shields that are specifically designed to guard against radiation exposure. We can also take our X-rays from the back which is known to reduce radiation exposure to the organs and breasts.
What I would like to point out is that while the risks associated with X-rays are minimal, the risks associated with leaving a spinal curvature untreated or treating it with incomplete information are much higher.
The Emotional Component of Scoliosis X-Rays
Another dynamic of X-rays for scoliosis patients is the emotional side. Obviously, with a progressive condition like scoliosis, for many people, X-rays are associated with getting bad news.
In most cases, an X-ray confirms people's initial scoliosis diagnosis, which is an emotional and scary moment. As the condition is progressive, X-rays are taken to monitor the condition often come back with upsetting results that the condition is worsening. This is an especially volatile factor for those choosing the traditional treatment path; undergoing periodic X-rays to 'watch and wait' while the condition worsens only moves the patient closer to the doctor's recommendation of costly and invasive spinal-fusion surgery.
X-Rays Give Good News Too
In my practice, I enjoy the fact that X-rays can take on a very different connotation for my patients. As an important aspect of my approach is action, treatment is initiated right away, and with the majority of my patients, they start to experience relief in as little as two weeks.
That relief is only increased when an X-ray reveals the condition has not worsened and brings additional feelings of happiness and control when later X-rays show a curvature reduction. These are truly wonderful moments that I feel privileged to share with my patients.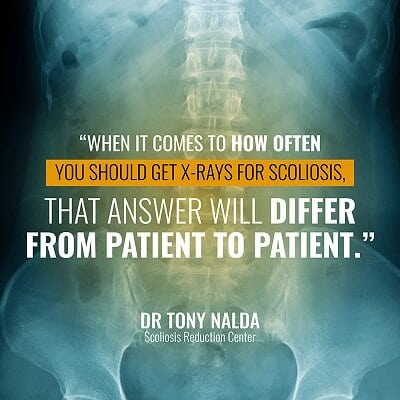 The moment I see the spark that flickers in the eyes of a patient with positive X-ray results is the moment I know that person sees their hard work and treatment plan is working. It often becomes the moment my patient starts to see their condition differently too. When it comes to how often you should get X-rays for scoliosis, that answer will differ from patient to patient.
In my recent book, Scoliosis Hope, I spend a lot of time exploring the emotional aspect of the condition. As an innovative scoliosis expert, one of my biggest priorities is debunking a lot of the myths and negativity associated with the condition.
The treatment plans that my team and I design include the goal of helping our patients cultivate a positive mindset and association with their condition. That positive mental attitude goes a long way in facilitating successful treatment. A healthy mindset also helps patients move into the future with hope and determination.
Conclusion
For those with adolescent scoliosis, frequent X-rays are most important for those going through puberty or experiencing large growth spurts and can average every three-to-six months. In my adolescent patients, whichever occurs first, time or growth, is when I will order an X-ray. If growth has occurred, I will diligently use X-rays and other methods to monitor how that growth impacts progression. Those with a severe curvature are also more likely to progress faster, making more frequent X-rays for monitoring purposes important.
In cases of adult scoliosis over the age of 40, spinal curvatures are known to lead to asymmetrical degenerative changes of the spine, and this should also be monitored closely with frequent X-rays. The more of a response we see in our patients, confirming that our treatment approach is working, the less frequently we order X-rays.
The best advice I can give my patients is that regardless of the treatment path they choose, the longer the time that passes between X-rays, the greater the risks associated with too much growth occurring during that time and speeding up progression. If a patient has increased risks for rapid progression due to growth, age, curvature severity, etc., I know frequent X-rays are more important. Don't be afraid to ask your doctor for additional X-rays if you feel they are too spaced out as early diagnosis and close monitoring is a key component of successful treatment.