I see patients all the time who come to me feeling hopeless, frustrated and even angry. They've been told that their only path forward is through scoliosis surgery, which is expensive, risky and not guaranteed to give them the relief that they've been seeking. I also talk to a lot of parents who are terrified at the prospect of having their son or daughter endure — and recover from — a major surgery. They've been advised to take a "wait-and-see" approach as their child progresses through adolescence, only to be informed that there is ultimately no alternative to surgery. They wonder what they've been waiting and watching for, and I truly empathize with them.


I believe in taking a patient-centered approach to scoliosis care. For me, it's not about what makes sense administratively or for my business's bottom line. It's about what makes sense for my patients.
Unfortunately, far too many people who deal with scoliosis find themselves moving through a system that seems to neglect their needs. They are unaware of alternatives to the reactive type of care they have received. And when they learn that a more proactive approach exists, they feel betrayed by the traditional medical establishment.
The fact is that scoliosis rarely gets better on its own. The "wait-and-see" approach that is so popular within the medical establishment is not intended to create improvements, but to see how bad the condition gets over time. That's why so many people find themselves at a crossroads with scoliosis: either get surgery or face the consequences of a condition that only worsens over time. And when they opt for surgery, no one can promise that it will reduce or eliminate pain. No one can promise that it will provide cosmetic improvements. No one can promise that additional surgeries won't be necessary.
Thankfully, truly transformative and helpful alternatives to scoliosis surgery exist. When patients take a proactive approach to scoliosis that improves mobility and reduces curvature, they can live full, rich and active lives. When patients and parents reach the critical crossroads where surgery seems like the only way out, there's actually another set of options available to them.
Scoliosis Surgery: When is Surgery Needed?
Some Scoliosis Surgery Facts
I understand why scoliosis surgery is recommended so often to patients and parents. An invasive, surgical, reactive approach to healthcare is the name of the game in our culture here in the United States, so it's no surprise that the common approach to scoliosis is guided by the same rationale. The surgical approach also happens to be quite lucrative and administratively beneficial for doctors and hospitals.
This is, of course, the opposite of the patient-centered approach that I prefer.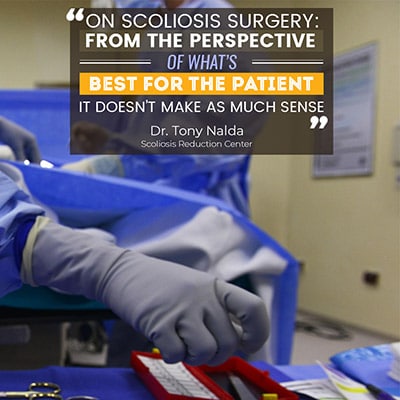 If you look at scoliosis surgery from the perspective of what's best for the patient, it doesn't make as much sense.
Consider these facts:
Recovery from scoliosis surgery can take weeks, months or even years. This is particularly troubling for adolescents and younger individuals who must miss school, extracurricular activities and other crucial events.
Except for extreme cases, a medical indication for AIS spinal-fusion surgery does not actually exist (Weiss, 2013)
Over time, the rate of complications from spinal-fusion surgery increases (Weiss, 2013)
Evidence for improvements in quality of life after spinal-fusion surgery does not exist. (Weiss, 2013)
Spinal-fusion surgery for scoliosis is incredibly expensive — the average cost for patients is $113,000
When surgery is not successful in reducing pain or correcting cosmetic appearance, the only treatment option left for surgeons to recommend is additional surgeries
Surgery simply transforms a spinal deformity into a lifelong spinal dysfunction, leading to disfigurement, pain and long-term disability
Surgery reduces the spine's range of motion, even in those areas that have not been fused
Spinal-fusion surgery can also lead to complications such as rod displacement, pseudoarthrosis, infection and nerve damage
When patients and parents learn these facts after being presented with surgery as their only option, they are often led here to the Scoliosis Reduction Center because they are desperate for alternatives. It's no wonder that so many of them are frustrated!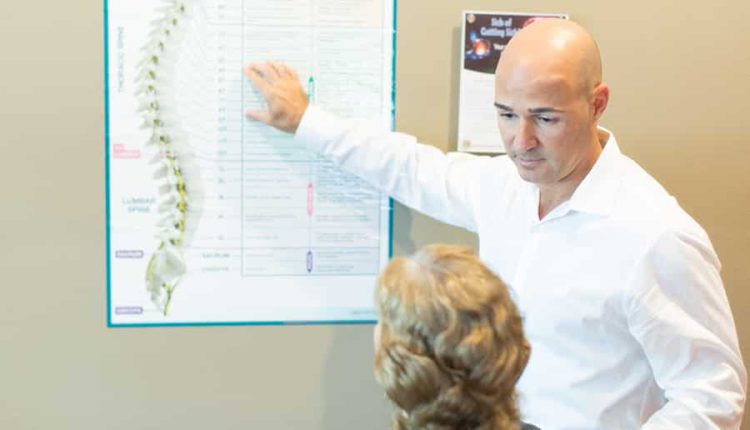 The Alternative Approach to Scoliosis Surgery
Scoliosis surgery is the most likely outcome of the traditional medical approach. It is borne out of the reactive "wait-and-see" approach that's so common in our healthcare system. Fortunately, a more natural, functional and proactive approach is available for those who wish to avoid the expense, complications, recovery time and ineffectiveness of surgery.
I believe in an approach that works to strengthen the spine and build its ability to function. When scoliosis is treated in this manner, the spine can begin to support itself, avoid the progression of scoliosis — and avoid scoliosis surgery! Active and passive rehabilitation, exercise therapy and chiropractic care work together in a fully comprehensive treatment approach. Yes, it requires dedication and hard work — from both the patient and their provider — but it produces real, tangible results. In fact, about 98% of my patients experience noticeable relief in just two weeks.
When patients and parents hear about the successes that have been achieved through this alternative approach, they often wonder why no one told them that there was another way forward. I see the frustration on their faces and hear it in their voices. That's why it's so important to me and my staff to spread the word about what's possible when treatment is handled in a patient-centered fashion.
Scoliosis surgery does not have to be the the only choice for those who simply want relief, increased functionality and a healthy appearance.
Learn More About Alternatives to Scoliosis Surgery
Have you been told that scoliosis surgery is the only way forward for you or your child? Are you terrified by the costs and complications involved with spinal fusion? Do you want to ensure that you engage in a scoliosis treatment approach that actually improves functionality, decreases pain and makes an active life possible?
My team and I at the Scoliosis Reduction Center are here to help you. I encourage you to contact us today at 321-939-2328 or [email protected] to learn more.